Vino In My Dino
December 15, 2021 11:05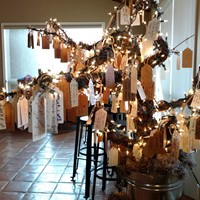 Wrapping up another year, whether it is presents, loose ends or otherwise, we are heading for a new year and all that it will bring. I thought I'd make some room for the responses I have received over the last few months. Many of you write back after one of the notes have hit home. I want to take this time to thank you all for your thoughtful comments, stories and memories I have the honor of reading each week.  It really jumpstarts my week to open my inbox and dive in-usually there is a bunch of SPAM or orders to read through. So I go for the gold—your messages. You all make my Mondays!

From Dry Creek Valley is Home Base:
From John T.:
"First of all, I really enjoy your newsletters.  So full of family and friendship.  Such a welcome from all of the negative news now-a-days!
I first visited your winery in 2005.  I remarried in 1999 to a wonderful gal whose best friends would visit the California wine country every couple of years.  Their names are Becky and John.  Interesting enough, my wife's name is Becky and you guessed it, my name is John.  This combination made for plenty of interesting conversations and experiences.  So, in 2005, they convinced us to travel with them to the west coast for about 2 weeks.  OMG, half way through the trip I realized I already purchased my anticipated wine allowance.  But that didn't stop my buying. At Pedroncelli, I focused on your 2000 Morris Fay Cab. Sauv. and some 2001 vintage port.  Yum.

Well every other year, we returned to California via grand trips via Yosemite, Death Valley, Las Vegas, the Grand Canyon, Lake Tahoe, and numerous other stops.  We did return to Pedroncelli in 2017, whereby I acquired a case of mixed wines.  Yum again!

We did visit in October 2019 to celebrate our daughter's first anniversary, as well as our twentieth.  2021 as you well know has been a mess and has kept us once again from traveling out west.  I hope that 2022 or at least 2023 will prevail with our returning to wine country, and we may be able to influence some of our adult kids to tag along.  

Long story short, we will return to California. Take care, best wishes to both you and your business, and keep writing those great newsletters.  Oh, by the way, your recipes are quite delightful as well."

Another response from Jim G.:
"I was in the Naval Reserve in the early 60's and served my 2 week summer camp at Skaggs Island.  On weekends everyone else went to S.F.  I went to the wine country.  My vague memory, as I'm now 82, was discovering Pedroncelli then, meeting John and Jim and falling in love w/ the Zin. 

After my return from 2 years' service and back in L.A. I took a part time job at a liquor store in Toluca Lake, Pop 'n Cork.  I raved about your wines and they took on your wines and I believe sold quite a bit.  I know I did, the Zin and an inexpensive blend, whose name I can't recall. (Editor's note: our Sonoma Red). About the same time I'd met my now wife of 52 years who seldom drank wine...and white at that... tasted Zinfandel and said she liked it. I immediately said to myself, "This is a keeper!"  We took a trip to Sonoma in the late 70's and visited the winery again meeting John and Jim. 

We left CA in 1974 and unfortunately in VA, NY State & Minneapolis did not have retail access to your wines.  We're now retired in Geezerville, AZ and again enjoying your wines. 
Thanks for the memories in your newsletters as I sorta feel a part of the family after so many years.

P.S I forgot to add that we escaped COVID confinement here in Phoenix and drove to Sonoma County for a 6 day vacation about a month ago visiting friends and memories. Our recent visit, maybe a month ago, included a re-visit to Pedroncelli, near closing time, to be greeted by a lovely lady who said she'd try to get us in and hosted us elegantly.  We of course bought a few.  I've carried a fond memory and a big support for 60 years now." 

From Are You in The 95%?:
A refresher-I created an informal survey, see below, on the subject of how quickly we consume wine once purchased. This one by far had the most responses!

When I buy wine I:
a-drink it within 0-48 hours
b-wait a bit-I am saving it for a dinner party next week
c-put it away for a time-out of sight, out of mind etc
d-I collect so I save every bottle I get and cellar for 10 or more years
e-all of the above
(Overwhelmingly 'e' was the choice but I received some thoughtful answers too. It isn't always one or the other but a combination.)

From Mark M and Sue M: "For what its worth, we open most red wines and leave them uncorked for 24 hours before drinking.  We tried an experiment that you might try, too.  Years ago we took two bottles of 2014(?) Mother Clone, opened one on Monday and let it sit open.  On Tuesday, we opened the other bottle, and then tasted the two wines side-by-side, blind.  The wine that had been open 24 hours was clearly fruitier and "rounder". Chemically, I think tannins react with oxygen more quickly than other components in red wine react with oxygen, so the 24 hours allows oxygen to reduce the tannins without significantly degrading the other components."  

From John T.: "One thing that we love about your winery is that you have the range of price points, and we've found that the quality is commensurate with the price.   We tend to save the Courage and Wisdom for special occasions and drink the lower priced wines soon after we get them.   Also, we have several bottles of Wisdom that we are keeping over 10 years to see how much aging helps them.  We've had some amazing Cabs that were 10-20 years old.   We frequently give your wines as gifts and the recipients are usually complimentary (and impressed!) and often ask where they can get more." 

And finally,from Jack J.:
Rosé for everyday
Mother Clone for burgers and pork chops
Bushnell Zin for steak and prime rib.
Courage Zin to impress friends. 

Every Day Should Be National Zinfandel Day
From Tom & Mary M: "What an interesting perspective you wrote yesterday, on the history of Pedroncelli Zinfandel making. I love articles like that, especially when they highlight generations of family. I can't imagine how beautiful and rural Dry Creek Valley was when your grandfather bought the land.  

I love the history of how and when you made each of the different types of Zinfandel. So interesting! I can't imagine the talent it takes wine-makers to blend different grapes and then refine the taste in each. It's a fascinating art!"

I have been called over to or stopped in the tasting room by some of you telling me you read my notes and make the recipes I include. I appreciate the feedback and it always makes my day! 
Categories
Recent posts
Popular tags