VISIT PEDRONCELLI
WELCOME TO OUR DRY CREEK VALLEY WINERY

We invite you to experience the genuine hospitality of Pedroncelli Winery and our portfolio of wines that are elegant, bold, and uncompromising in quality. Our family winery embodies the history and spirit of the Dry Creek Valley, and we look forward to sharing our beautiful corner of Sonoma wine country with you.
EXPLORE OUR EXPERIENCES


CLASSIC TASTING
Experience the best of Pedroncelli Winery with our Classic Tasting! Relax and savor the flavors of our award-winning wines from our estate vineyards in the Dry Creek Valley. You'll get to choose from three flights of our critically acclaimed wines, all while sitting comfortably in our tasting room or on our picturesque outdoor patio, weather permitting. Pricing for the tastings starts at $20 per guest and can go up to $30 depending on the flight you choose.

Explore Our Flights: Tasting Menu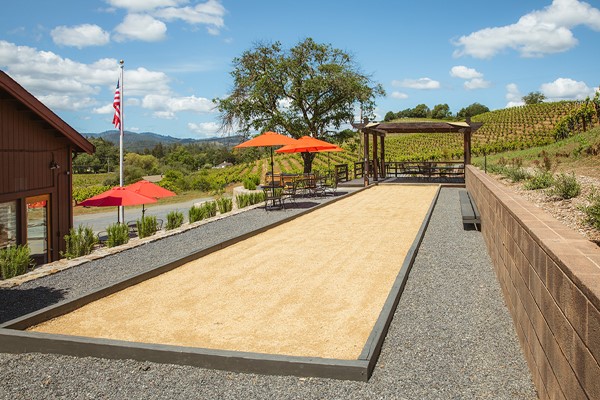 BOCCE & BOTTLES
Join us for the ultimate Bocce & Bottles experience at Pedroncelli Winery, where you can sip, play, and take in the stunning views. Bring up to 18 of your friends and reserve the bocce court overlooking the Home Ranch Vineyard for a 90-minute game. To enhance your experience, we require that you purchase one bottle of Pedroncelli wine per three guests (excluding Friends Wines) to enjoy during your game. We'll provide the glassware, so all you need to bring is your competitive spirit and love for wine. To book, simply email Colin Sinclair at colin@pedroncelli.com. The cost for this unforgettable experience is $50 for your group before wines, but Wine Club members get to enjoy it for free. Offered daily, Bocce & Bottles is the perfect way to spend a leisurely afternoon with friends, surrounded by the beauty of wine country.

Time Slots Available For Booking: 11:30am-1pm & 1:30pm-3pm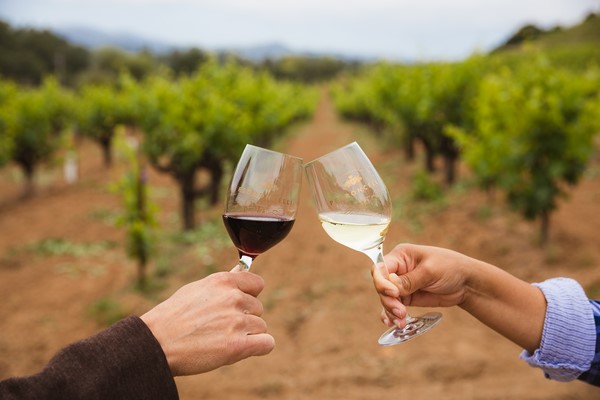 VINEYARD TASTING
Relax amid the Mother Clone vines of our Home Ranch Vineyard as you indulge in our Giovanni & Giulia Sauvignon Blanc, Sonoma Classico, Mother Clone Zinfandel, and complete your journey with the Three Vineyards Cabernet Sauvignon. The cost for this tasting experience is $30 per guest, complimentary to Club Members, available exclusively on Fridays and Saturdays at 11am. Reservations must be made one week in advance. Contact Colin Sinclair at colin@pedroncelli.com to book now.


This experience is for up to four guests only, no exceptions.
---
General Information:
To ensure a comfortable and enjoyable experience for all our guests, reservations are limited to groups of six or fewer. Our tasting flight fees are $20 and $30 per person depending on your chosen flight. Club Members and two additional guests per membership can taste with compliments. Additional Club Member guests will be charged accordingly.

If you are planning a visit with a group larger than 6 guests, we kindly ask that you contact our DTC & Wine Club Manager, Colin Sinclair at colin@pedroncelli.com. Colin will assist you with pricing and reservations to ensure that your group has a memorable experience at Pedroncelli Winery

We welcome leashed pets on our lower deck outside, just let us know in advance so we can reserve a spot for you and your furry friend. Please note that on hot days, it may be best to leave your pet at home for their comfort.
Holiday Hours:
To allow our staff time to be with family and friends, our Tasting Room is closed on the following holidays: New Year's Day, Easter Sunday, 4th of July, Thanksgiving Day, Christmas Eve, and Christmas Day.
Trade:
If you are in the trade (wholesaler, retail, restaurant, or media) and would like to schedule a tasting and tour please email Julie Pedroncelli St. John at julie@pedroncelli.com and she will be happy to schedule it.