Vino In My Dino
July 29, 2021 10:40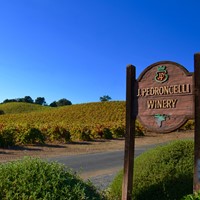 There are many days when I take for granted the view as I drive up Highway 101. From my home in Healdsburg to the winery in Geyserville the panoramic view before me is of Alexander Valley, which parallels Dry Creek Valley. Alternately I take Dry Creek Road home and the tour is complete-these two 'AVAs' are the geography I grew up with, two valleys I have known all of my life.

What is an AVA? According to Google: "An American Viticultural Area, or AVA, is a specific type of appellation of origin used on wine labels. It is a delimited grape-growing region with specific geographic or climatic features that distinguish it from the surrounding regions and affect how grapes are grown." Take a little trip across the county with this video produced by the Sonoma County Vintners showcasing the geography of our world class grape growing area.

When my grandparents bought the property there were no AVAs. They lived in Geyserville. Canyon Road was a connector to Dry Creek. In those days, up until Warm Springs Dam was built, the creek actually was dry over the summer and fall until the rains came. The Army Corps of Engineers completed Lake Sonoma in 1982 and brought with it year round flowing water, flood control, much needed water for downstream use, fishing, recreation, as well as allowing fish migration.

I grew up in 'Dry Creek' because the appellation name wasn't used until later. Looking back it seems like something akin to the Gold Rush came along to name and create the many AVAs within the county. Sonoma Valley was established in 1981, Dry Creek Valley in 1983 and 16 other sub-appellations all came together over the course of the next 30 years. The wine geek in me looked to the TTB (short for Alcohol and Tobacco Tax and Trade Bureau) which has set up a website where you can find any appellation that has been approved in these United States.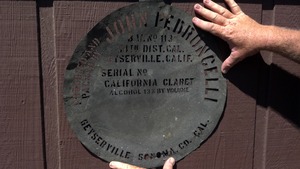 Interestingly the stencil shown here includes Sonoma and this was used by my grandfather to mark the barrels containing our wines in the 1930s and 1940s. This was before we began to bottle our wines in convenient carry out containers. We began using Sonoma on our label in the 1950s to identify where the grapes were from as compared to the more generic California appellation on previous labels.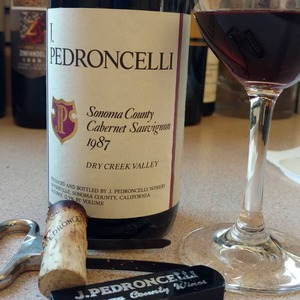 Once the AVA was approved we added Dry Creek Valley to the label. Each valley or AVA has its' own criteria, setting it apart from neighboring areas with different climate attributes, soils, and sites. Vineyards near these borders sometimes cloud the issue—our Chardonnay comes from F. Johnson Vineyard where they drew the appellation line right through the property with Dry Creek on one side and the Russian River Valley on the other. There is a difference in quality growing Chardonnay 10 miles south of us. We had it planted on estate vineyard and found it was too warm for the variety and now Cabernet Sauvignon thrives in its place. The cooler area south brings a bit of minerality as well as bright acidity to the fruit striking a nice balance.

Cabernet Sauvignon and Chardonnay not only dominate the plantings in California they are the two most widely planted in Dry Creek Valley-followed closely by Zinfandel, Merlot and Sauvignon Blanc. We grow four of the five top varieties. 

Dry Creek Valley, as an AVA, excels in producing the best from these grapes as well as Italian and Rhone varieties. Those cool nights and warm days combined with unique soils bring about an expression of place. Our winemaker Montse likes to say you find the personality of the vineyard in our wines, in France they call it terroir. As for me it's home base. 
 
Categories
Recent posts
Popular tags