Vino In My Dino
June 10, 2022 14:51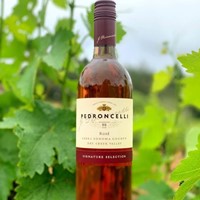 How fitting to celebrate Rosé with its' own national holiday!
The history of Rosé is a long one-and has been overshadowed at times by the Red and White wines over the last 100 years. But watch out Cabernet and Chardonnay- Rosé has a corner on the market! Looking back to the origins of wine it appears that many of the red wines made then were the color of some of the Rosés today. I imagine those early winemakers chose this style because of the early winemaking equipment (goat skins, amphorae) didn't allow for cold soak fermentations and other modern techniques.  It is also a versatile wine, easy to drink soon after fermentation, not too heavy, not too light. Went well with the catch of the day or the leg of roast beast. No aging in goat skins required.
This wine has been part of our story nearly 70 of our 95 years! We have been making Rosé since the early 1950s when it first appeared as Vin Rosé. A couple of years later, since it was made from Zinfandel, Jim and John Pedroncelli changed the name to Zinfandel Rosé, naturally identifying the grape from which the wine was made. Popularity of our Rosé reigned for a few decades until two rosé roads diverged and we made both a Zinfandel Rosé and a White Zinfandel. Popularity of the lighter and sweeter styled rosé (and yes Virginia it is a Rosé ) spanned the vintages of 1984 through 2000. All along we had a small but mighty base of fans for the OG Rosé. By 2005 the popularity of Rosé in general would soar and we were back in business. We haven't looked back.
Winemaker Monteserrat Reeece will tell you it is the most difficult wine to make out of all of our wines. The style has changed from my uncle John's time however. In those early vintages it was made in a saignee method-where the winemaker draws off the juice from fully ripened Zinfandel and separates it into its' own tank after the juice has settled on the skins for a bit. The color was a deep magenta with full flavor and a bit higher alcohol than the current release. The style now is to pick intentionally for Rosé which means an earlier time-about two weeks ahead of when we would pick for red Zinfandel. By doing this the wine has lower alcohol, is lighter in color and brings crisp acidity for balance with the fruit. It also captures the rose petal/watermelon/spicy goodness of the high aromas and notes of Zinfandel in this form.
Finally let's talk food. Well first there are a couple of wine-based cocktails I'd like to recommend: our Negroncelli and Strawberry Basil Zingria. Perfect for summer sipping. Now for the food. A few of my favorite things are Grilled Salmon, Seafood Paella (our winemaker's recipe!), Orzo Pasta Salad, Watermelon Salad, and more-all found on this link to our recipes that are specially selected to pair well with our Signature Selection Rosé. So get ready for summer, order up and sit back. Enjoy our 68th vintage of our Rosé! It will be what's in my Dino this weekend.
Categories
Recent posts
Popular tags