Vino In My Dino
June 17, 2020 14:50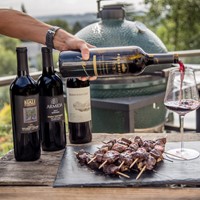 I received a text from our son Joe the other day-he had found our Mother Clone Zinfandel at the Whole Foods and had sent along a photo-he lives in Reno Nevada. He also included an idea for a blog post: #pairitwithPed. I loved it and this is the first in a series of pairing food, wine and experiences.
Our first pairing is from an opportunity for our Bushnell Vineyard Zinfandel. We participate in media gatherings through one of our trade organizations named ZAP (Zinfandel Advocates and Producers) and this one focused on #LegendaryZinVineyards and #GrilllingWithZin. Bushnell Vineyard has been a source of fruit for 8 decades and has been in the family for three generations-and the grapes have always been part of our Zin bottlings. It is also the perfect time of year for the theme because Father's Day is just around the corner and July is 'THE' grilling month.  I found a recipe I had uploaded a while ago and it was the perfect one to pair with our legendary Bushnell Vineyard Zinfandel. I chose the Grilled Lamb Loin Chops with Red Wine, Garlic and Honey Glaze because I am a student of ingredients when it comes to choosing a recipe to pair with our wines. Beginning with lamb-which is a favorite pairing for Zinfandel-the oregano, the red wine, garlic and finally the honey all come together to heighten the pairing with layers of flavor and complement the wine.
The event was a Twitter Taste Up, scheduled for June 10, and was organized by Robert Larsen of The Larsen Projekt for ZAP. A bottle of our Bushnell was shipped along with the recipe to twelve wine writers and bloggers. I had my 15 minutes of fame along with three other wineries that evening. I highly recommend people joining this type of experience-an hour of time focused on a single variety and theme. The engagement factor is high when you know the writers and bloggers are from California to New Jersey, Texas to Iowa. When everyone is online across the nation at the same time it is fast paced and fun. Watching the posts, comments, photos of their pairings and questions all is quite a thrill. If you'd like to see all of the action type in #LegendaryZinVineyards and #GrillingWithZin and experience it yourself.
Here is the wrap up and some of the commentary from the evening.
Vindulge, Mary Cressler and Sean Martin, provided the beautiful photo above. They also just finished Fire and Wine: 75 Smoke Infused Recipes From the Grill with Perfect Wine Pairings
From Dezel Quillen, @myvinespot , "Bushnell has been connected to the Pedroncelli family for over 50 years. This wine is full, robust & chewy, offering flavors of smoky plum, blackberry preserve, mocha, & spiced fruitcake. It begs for red meat. Bushnell Vineyard always hits a homerun!"
From Mysty, @RedWineCats, "Big, handsome fella at 16.1%  Anyone try the lamb chops recipe? I don't know... I think this one could just pair well with itself too?!?
From James Melendez, @JamesTheWineGuy, "nose of black cherry, dried herbs and violets; palate of cassis, baking spices, pepper and dried red floral notes."
Joe Roberts, @1WineDude, "Another fun wine from Pedroncelli with the Bushnell Zin. So big and bold, but sooooo undeniably tasty."
Articles too:
Cindy Rynning, Grape Experiences: http://www.grape-experiences.com/2020/06/california-zinfandel-legends-producers-vineyards-wines/?fbclid=IwAR2EY7eEVeEFF77tq6YqG6HXwDrBA62ZkMzGIps4qu8RFi5SW5X_0SnkwWQ
Gabe Sasso, Gabe's View: http://www.gabesview.com/blogposts/2020/6/11/zinfandel-americas-favorite-grape-to-grill-with
Was it synchronicity or something else? The same week of the taste up I saw the blog post Grilling with Zin on Discover CA Wines with this great recipe-https://discovercaliforniawines.com/blog/up-your-bbq-game/
Something must be in the air or is the twitterverse and blogosphere recognizing something I have known all along: Zinfandel really is the best wine to pair with BBQ. Just a year ago I talked about it here. I think it is time for some Zin in my Dino to celebrate.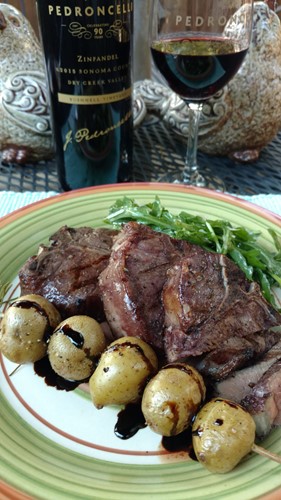 Categories
Recent posts
Popular tags