Vino In My Dino
June 30, 2015 15:54
When my husband Ed and I were talking about what you learn over 30 years working for a family business we agreed it is hard to quantify all the changes because experience and know-how take time.
Getting comfortable in your own skin: I am who I am. When I took a public speaking class many years ago I learned the how-tos of presenting our story to a crowd but it took me a while to be myself. Some additional coaching by my husband Ed helped to find my voice but the experience of doing it over and over again made me the most comfortable, becoming more confident over time. While traveling to markets my dad had established, I'd hear stories and urban legends about him. He, like me, is an introvert, and had his 'on the road' persona JP that was known far and wide. I blazed my own trail and I appreciate the time it took to shape my story.
Family business means family is your business. A while ago I went to a seminar and learned the statistics are against a family business succeeding beyond the second generation, by a large margin. Yet my family-with great thanks to the first two generations-has prospered now to the third generation. Taking care of each family member will be challenging as we get to the expanding fourth and fifth generations but the lesson learned is family is your business.
Really know wine and love it. Know it like the back of your hand. I love wine-all kinds especially Champagne with a capital C. I have spent my life tasting through our wines and have what we affectionately refer to as a Pedroncelli Palate. Having a house palate is great but a bit limiting because there are so many more wines to discover. I often find myself at wine events advising new-to-wine tasters to try everything because you can always pour out the wine and move on to the next one. You have to start somewhere!
30 years of working in my family's business has gifted me with a deep knowledge of our family's history as well as that of the Dry Creek Valley. I wouldn't trade it for anything and am thankful for the opportunity to continue our legacy. A toast to 30 years with Zinfandel in my Dino.
My sister Cathy and me at a tasting in 1988-as far back as I will go!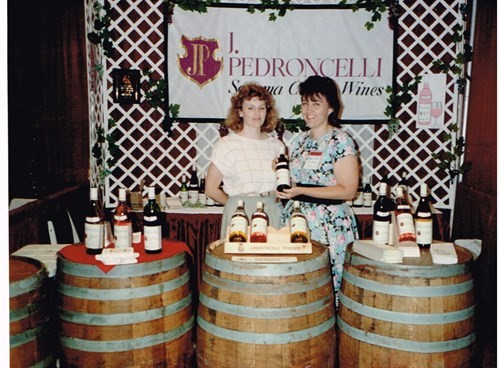 Categories
Recent posts
Popular tags