Vino In My Dino
February 27, 2018 16:38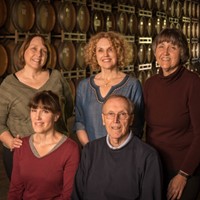 Family businesses are different than others because most of our co-workers are spouses, siblings or cousins. You know, when we were growing up here at the winery, women outnumbered my Dad 5 to 1. With four daughters and my Mom he survived but as my sister Lisa put it "his lifetime achievement award was well deserved-he survived four teenage girls". He was raised in part by his sisters Margaret and Marianne who were 10 and 9 years older than he was so he had a good start in the girl department.
Women over the years have played an important part in this family business of ours. My grandmother Julia helped everywhere from the vineyard to administration to maintaining the family home and the countless dinners they hosted. Don't forget my aunts who not only took care of my dad but they also worked with their parents to run the vineyard and farm. Later on Margaret and my uncle Al grew Zinfandel and Petite Sirah for the winery. My mother Phyllis and aunt Christine, from the second generation, also had roles in the running of the business from market visits to weighing in grape trucks, bookkeeping to hospitality.
Because of the hard work and dedication of the first two generations the third and fourth generation became owners. Those generations are predominately women (see note above about me and my three sisters and includes cousins too).
I was asked a great question at the #winestudio discussion earlier this month when the tweet up was the subject of women owned wineries. How did I find my voice and my calling amidst a family business? When I was attending college my parents encouraged me to do what I wanted to do-to pursue my dream. I majored in English with a Writing Emphasis and thought I'd go into the publishing world. A weekend side job of helping my sister in the tasting room had me commuting between El Cerrito in the East Bay to Geyserville-where I realized how much I missed Sonoma County. A few months later my dad and I had a chat in the case goods warehouse and he asked me if I'd be interested in working for the winery. I had had enough of the city life (cue Green Acres music) and came back home armed only with an English degree and willingness to learn.
Part of the blessing of a family business is when we are hired we are encouraged to take a part of the business that speaks to us-sisters Cathy and Lisa work with administration-they are numbers ladies. I found my voice by writing for the winery-newsletters, background stories, fact sheets, press kits and a blog. Good thing I majored in English w/writing emphasis. I was also afforded the freedom to find my passion about wine not only by writing about it but also traveling around the U.S. markets. When I was growing up in the heart of the winery operations I took for granted what takes place in the vineyard and the cellar. I don't anymore—I have learned much about the process and if it is possible I have become even more of a wine fan than ever before because there is a world of wines to discover.
Amy Bess Cook has started a WoW: Women Owned Wineries website highlighting Sonoma County WoW. Check it out here.
A toast with a splash of Zinfandel in my Dino-the first wine I ever tried.
Categories
Recent posts
Popular tags