Vino In My Dino
March 19, 2015 16:23
My grandmother was born in Italy and immigrated with her parents Antonio and Margarita Petrelli and sister Rena to California in the 1890s. They landed in Redding and operated a boarding house. Teaching would be her first profession out of high school and she taught at a one-room school house. Later on, she met my grandfather Giovanni when he sold vegetables from his garden to my great-grandparents. After they married they began to look for a permanent home. In 1927 the young family purchased 90 acres of land, a defunct winery, 25 acres of Zinfandel and a home here in Dry Creek Valley, Sonoma County. Three children came with them and my dad, Jim, was born a few years later at the family home.
My grandmother's contributions were invaluable in many ways to the family business. From keeping the books, raising her family, working in the vineyards not to mention her generous hospitality, she was the backbone of our winery's early years. When I was growing up I was unaware of her accomplished life because she didn't speak much about those days. I imagine they were difficult at first, especially with the Depression settling in two years after they moved to the ranch. Sons John and Jim reminisce in their oral history J. Pedroncelli Winery: An Ongoing Family Tradition about how she made sure her family always had food on the table-canning fruit and vegetables, making cheese and butter, raising chickens and cows to make ends meet.
Later on, during the heyday of the 50's and 60's, she hosted many dinners with family and friends, dining alfresco style. We even have a photo of one of those afternoons in the Smithsonian's National Museum of American History celebrating FOOD: Transforming the American Table 1950-2000. Her rosemary chicken, venison stew, risotto, ravioli and spinach malfatti remain in a class by themselves.
Most of all, I remember her as a quiet pioneer. She didn't call attention to the years of hard work and dedication, of working side by side with my grandfather, because she was humble to a fault. You didn't call attention to the wine, wine was just part of life. If life is good then the wine, like my grandmother, has done its job. She helped create a legacy which proudly continues today. Her philosophy still echoes in our wines and lifestyle. A toast to Grandma P and National Women's History Month.
Great-grandparents Margarita and Antonio Petrelli with my grandmother Julia and her sister Rena standing behind her.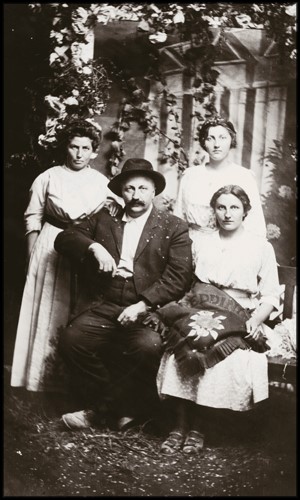 This is the ledger my grandmother kept between 1950 and 1960.  We have donated this to the archives of the National History Museum along with her polenta pot as testament to her enduring legacy.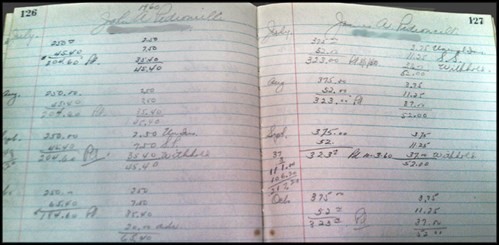 For more photos of the family click here.
Categories
Recent posts
Popular tags