Vino In My Dino
June 25, 2019 15:04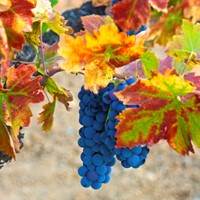 The 7th post on Zinfandel this year and the focus is on the origins of this unique grape. Where did it come from, where is it planted and how many countries produce a Zinfandel these days. We'll dive into the background as we know it.
I am highlighting our flagship grape each month and I have been thinking through the origins of Zinfandel's arrival to the U.S. It originated in Europe, was brought over sometime in the early 1800s in the form of cuttings and a century and a half later became known as 'America's grape'. Very similar to the way my grandparents made their way to the New World. There was opportunity to begin a new life here and to put down roots in a new place. For many of those early arrivers they brought something from the home country to make them feel at home in the new one. Wine was a tradition for many who came to America during that time and it follows the grapes from Europe were an important step in maintaining that connection in America.
From those early days of planting the grape, Zinfandel had many spellings and names. In some cases it may have been a misspelling similar to when an immigrant checked into Ellis Island and received a different spelling of their surname. Or simply someone couldn't read the handwriting. Who knows? What did happen is over the first few decades the name went back and forth, at times similar to the varietal we know today (Zeinfindall) and other examples (Black St. Peter's or Zirfantler anyone?) went out on a limb. Glad they finally settled on its' current name of Zinfandel.
Today there are 42,000 acres of Zin planted in California alone! A little over 5000 acres are planted in Sonoma County and half of that amount is right here in Dry Creek Valley, the smallest of the four major appellations. It was first planted here in the mid-1850's alongside other varietals like the Mission grape that made a wine that was easy to drink soon after fermentation. Other countries around the world, specifically Croatia where the lineage of the grape has been traced to recently-a great article here outlining the story-grow it and are at about 5 outside of the United States.
For your enjoyment here is a history taken from our Zin Kit produced in the 1990s and includes a 70 year timeline:
1832—First record of Zinfandel being grown in the US by William Prince on Long Island, New York. He identifies it as a Hungarian variety.
1834—First reported exhibit of Zinfandel by Samuel J. Perkins of Boston.
1839—Zinfandal vine wins its first award as part of the Otis Johnson collection on the East Coast.
1848—John Fisk Allen of Salem, Massachusetts, publishes description of locally grown Zinfandal that closely matches what is now called Zinfandel.
1852—The year Agoston Haraszthy imported Zin into California, according to his son, Arpad, writing in the 1880's. Haraszthy is sometimes known as the "father of Sonoma County winegrowing".
1857—Captain Frederick W. Macondray and J.W. Osborne exhibit Zinfandal at Mechanic's Fair in San Francisco.
1858—Commissioner of Patents lists Zinfandal as part of its collection.
1858—A.P. Smith of Sacramento exhibits Zeinfindall at State Fair.
1859—Antoine Delmas wins first prize for his wine, believed to be Zinfandel, at the State Fair.
1860—William Boggs plants Zinfandel in the propagation garden of the Sonoma Horticultural Society. Leads to extensive Zin plantings in the county.
1860—General Vallejo's winemaker, Dr. Victor Flaure, advises Sonoma growers to plant all the Zinfandel they can.
1864-1869—Dry Creek Valley attracts the first growers who planted Zinfandel and Mission grapes to support or start their own wineries.
1868—First North Coast award (a silver medal) for a Zinfandel given to Sonoma pioneer wine man Jacob R. Snyder at the Mechanics Institute Fair.
1872—The first winery in Dry Creek Valley was built by George Bloch. A vineyard boom soon followed bringing 15 growers to the valley by 1877.
1878—Zinfandel is the most widely planted varietal during California's first wine boom.
1883—Dry Creek grape growers increased to 54 by this time and Zinfandel was the top planted varietal with a total of 395 acres.
Categories
Recent posts
Popular tags