Vino In My Dino
January 17, 2022 09:46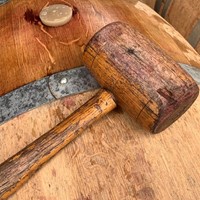 Last year I had Marcus Cano, son of our cellarmaster Polo, film winemaker Montse Reece and fourth generation member Mitch Blakeley-in the cellar and the vineyard respectively through four seasons. Marcus followed Montse into the Barrel Room and her lab.
As you will see there is a lot going on in the cellar at this time of year. She guides you through two of her tasks: blending our Mother Clone Zinfandel and barrel aging. Before you dig into the videos though here is Montse's background-she just celebrated her 15
th
harvest with us. We have had 3 lead winemakers in our 95 years! My grandfather, my uncle John with 65 vintages and now Montse.
She is a native of Spain and earned her degree in enology from the University of Rovira i Virgili in Tarragona, Spain. She then worked for wineries in the Penedés and Montblanc regions during this time. Once finished with college she came to California and joined the harvest crew at Gloria Ferrer Champagne Caves in Sonoma in 1998. After that she was hooked and held positions at both Ferrari-Carano and Rodney Strong Vineyards. She joined the winemaking team at Pedroncelli Winery in 2007 as assistant winemaker to John Pedroncelli, Winemaker Emeritus.
"I consider it an honor to have had the privilege of working with John Pedroncelli for as long as I did," says Montse. "His passion and love for the vineyards and wines of Pedroncelli will continue to be present in the style and spirit of this winery for generations to come." Montse was named Winemaker in 2015 and she focuses on the details and unique qualities of each vineyard block. She maintains the continuity of the Pedroncelli style and works together with Vineyard Manager Lance Blakeley and Cellar Master Polo Cano who make up the winemaking team. 
Categories
Recent posts
Popular tags