Vino In My Dino
July 28, 2020 16:13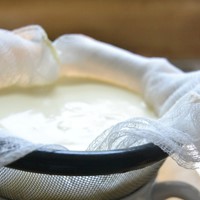 #PairitwithPed is an idea from our son Joe St. John-who texted me one day from Whole Foods where he had found our Mother Clone Zinfandel on the shelves. He was inspired and suggested I write about pairing wine and food. I added experiences and put them all under this hashtag. They have become a regular feature now.
This month the food is mascarpone cheese-and how the memory of this simple dessert accompaniment has stayed with me for nearly 30 years. I was reminded of it when I was reading Janet Fletcher's Planet Cheese newsletter (Janet is also a prolific cookbook author besides being a cheese maven).  She was talking about making ice cream with mascarpone and it brought back memories of the dessert I had at a restaurant in McMinnville OR all those years ago-it was that delicious!
Setting the stage for the experience: It was this time of year when Ed and I traveled to Oregon to work the market. Back in those days I was representing the winery and he was selling cork and winery equipment for fp Packaging. Once our work days were done we would meet for dinner at a local restaurant. We were in McMinnville and had heard that Nick's was the place to go. After a wonderful meal the dessert list was brought out and the waiter announced a seasonal choice of ripe summer fruits over mascarpone cheese. We ordered it and we LOVED it-with perfectly ripened peaches, nectarines, blackberries, marionberries and raspberries. All topped over freshly made mascarpone in a parfait glass-wow wow wow! We have eaten many meals out over the years and I can think of just one other dessert that topped this one-fresh peaches in Moscato d'Asti when we were visiting Piemonte Italy mid summer-there's a theme here…
But let me set the record straight-mascarpone is not *really* cheese and when made fresh resembles whipped cream without the air-dense and rich.
The second part of the story is about a cookbook I happened upon just a year later entitled Dinner Party: The New Entertaining by Jane Freiman. While I was leafing through it I came across a recipe for Lemon Tirami Su which included a page on making mascarpone at home. Two ingredients: heavy cream and lemon juice. It does take some time for the whey to drain out and you need a few general kitchen items like a colander and cheesecloth/coffee filters. Sometimes it takes overnight until the whey drains out and makes a cream that is spreading consistency. The recipe for it is here.
Once I was reminded of this dessert gem I made the mascarpone and paired it with fresh peaches. Quite simple and captures summertime nicely. So we have the food, the experience and now for the wine. I would recommend our friends.white to go along with the summer fruits and rich mascarpone. This white wine blend is fruity and floral on its own. A perfect #PairitwithPed combination.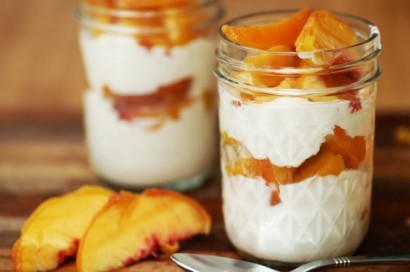 Categories
Recent posts
Popular tags