Vino In My Dino
October 26, 2021 09:24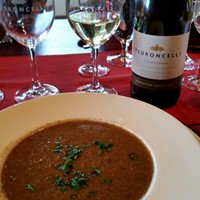 My husband Ed is doing great these days-and appreciates all the follow up emails, texts, cards and phone calls following his bypass surgery in August. When he was in the hospital people would joke with him about how bad the food must be. Maybe it was because he was in the Cardiac Care unit but I'll let you in on a little secret-he loved it. It was Heart Healthy and also very tasty, even without the extra salt. He was there so long he rotated through the menu a few times and proudly hacked the choices when realizing he could add extra fruit or extra veggies for his midday snacks. And he lost weight even while mostly immobile with all of his IVs and monitors.

Once released from the hospital I had some trepidation about what I would be cooking for him. Would it be tasteless, salt free, boring? How would I keep him healthy while still enjoying our usual Spice Road inspired and full flavored meals? The upshot from his cardiologist was to eat low fat, use little added salt, to watch sodium overall and to include low fat or fat free dairy. So farewell to Parmeggiano Reggiano, arrivaderci charcuterie, au revoir Brie, so long chips and crackers and goodbye to canned and processed foods high in sodium. Hmm, what was a wife to do?

The good news is while Ed was recovering he went online to help out with the menus and found an abundance of great recipes with lots of flavor. I went through our cupboard and refrigerator and began assessing what we had that needed to go. Not much really. We don't eat a lot of processed or pre-prepared foods as we do like to cook. A couple of friends sent us vegan cookbooks (thank you Betsy and Nestor) and they have some very good spice road flavors which we love-not sure we are going plant based just yet but happy to have such a deep well to draw from in the way of choices.

Then there was the lingering question-does he get to drink wine?? The answer is yes, in moderation. So pairing up our wines with his heart healthy food isn't much different than before-just less fat, salt and healthier meals.

When planning the week we are now adding one or two plant based options and for two meals with fish (we are fans of the frozen Mahi Mahi filets from Costco because they defrost quickly and are very easy to flavor up). Boneless skinless chicken breasts and lean pork and a little beef here and there fill out the menus. Here are some of our favorite recipes for your kitchen:

Tomato & Olive Stuffed Portobello Caps
Serve with our friends.red

Spicy Tunisian Grilled Chicken
Serve with our Mother Clone Zinfandel

Apple & Fennel Roasted Pork Tenderloin
Serve with our Merlot

Baked Curried Brown Rice & Lentil Pilaf
Serve with our Sonoma Classico

Poached Salmon with Creamy Piccata Sauce
Serve with our Russian River Valley Pinot Noir

Mahi Mahi with Orange Shallot Sauce
Serve with our Signature Selection Chardonnay

I'll continue to add more to the new section in our Recipe page as we continue our health conscious journey.
Categories
Recent posts
Popular tags