Vino In My Dino
October 24, 2020 09:01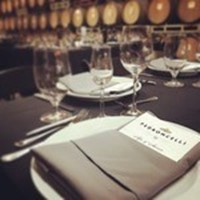 Time for a COVID check in with everyone. How are you doing as we enter the 8th month of the pandemic with masks, distancing and all?  I continue to hear from several of you every week and I thank you for taking the time to respond, it helps me know you are doing okay and finding ways to make this work for you. I'm savoring a memory on this second Saturday of October as I am reminded of our annual Club Ped dinner, Sip & Savor.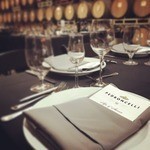 The wine reception and dinner has taken place at this time in October over the last few years-sometimes harvest is over and at other times the winemaking team is still taking in grapes or working on fermentations-and then attending our gathering. Today we would typically would be hurrying around making last minute adjustments to the table decorations and making sure the wines were chilled and ready so we could welcome our friends. Wondering where your invitation went? Well you guessed it, we are not able to hold the dinner this year due to those darn COVID guidelines.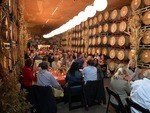 ​Ahh memories! Do you have one from our dinners? We began hosting them shortly after the beginning of our wine club which goes back 25 years ago. Over 20 years of dinners! All of them are memorable in many ways because of who was there, which caterer helped us or even when we catered it ourselves (Ed should remember pulling off the first dinner for 100 with just friends as volunteers!). We have had over 2000 guests join us over that time!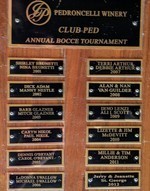 We even hosted some hotly contested Bocce Ball games on the court before dinner. A glass of wine in one hand and tossing the palina in the other! Is your name on the winner's plaque? 

For now, how do we deal with our events being postponed or cancelled in order to remain safe in our bubbles? One way is by savoring those memories and, at the same time, looking forward to gathering again once the pandemic has ended. In the meantime we can gather virtually of course. I am putting together an online event called Zoom Into Sip & Savor. It will have a Happy Hour vibe and will focus on six wines as well as a Little Italy Box of artisan cheese and more from Vella Cheese Factory. We'll all gather virtually at the appointed hour to celebrate with our family & staff as hosts for you and your friends. November 7-mark your calendars and we look forward to 'seeing' you there!
Categories
Recent posts
Popular tags