Vino In My Dino
January 5, 2021 09:33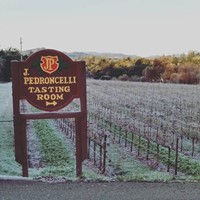 When the Pandemic began mid-March, and the shelter in place orders were sent out to all of us, I began a weekly series of Notes from Home. Originally A Note from Home was a quarterly newsletter to our wine club members. I morphed the concept into what is now ten months of almost weekly notes. 2020 had many 'interesting' topics from COVID Operations to Shared Experiences. Coming up with something to write about was no problem.

As I began each note I used a writing trick a long-ago friend of mine shared with me. Her aunt wrote a weekly column for a local town paper and when writing a new story, she wrote 'Dear Vivian' at the top in order to be inspired but this line didn't appear in print. Vivian was her much loved mother and inspiration. So I used the same format for my Notes-I think of one of you who have written back to me with your stories—Dear Phyllis (Mom), Dear John & Sheryl, Dear Jeff, Dear Kathy, Dear Rita and John, Dear Dean, Dear E, and so many more!

I think part of what gave me so much pleasure from writing these was the fact that it became an anchor for me each week. A much-needed regular part of my life and one where I could connect with you because, as I said last week, it is the shared experience which is key to our current situation.

As the new year approaches in a few short days (and happier days ahead is my new motto) it seems we all begin to make lists. Either a look back at the year "The Top 20 of 2020"or looking forward by making resolutions for 2021. I am including 10 of my favorite notes from the last 10 months as a recap of this pandemic 2020 Countdown:
 
March: The first and fittingly titled: How Are You Doing?

April: Learning Curves

May: COVID Operations

June: How You Doin'? 

July: Celebrating Our Legacy

August: The Waiting is the Hardest Part

September: When Life Gives You Lemons

October: Resilience of a Vintage

November: Taking the Long View

December: Shared Experiences

I look forward to the time we will sit down in person, share a glass of wine and tell our stories of the pandemic and how we made our way through this challenging time.
Categories
Recent posts
Popular tags