Vino In My Dino
May 21, 2020 08:17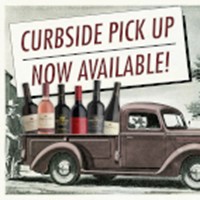 *Cue Mission Impossible theme music: da da da, da da da, da da: We are on a mission today to discover COVID Operations in and around the winery and out in the market. We are all working under challenging guidelines while we try to operate as normally as possible. This brings out the creativity in all of us-especially here at Pedroncelli.
Spring Ops: The vineyards continue their march toward harvest 2020 and May is the growth spurt the vines need to get going-the phrase April showers bring May flowers isn't lost on the vines. Budbreak back in March progressed through warm days in April to push the growth forward and now we are seeing the clusters forming and this month they begin their flowering phase-the next step toward crop set. The vineyard crew is busy with their list of things to do while being aware of the current social distancing and sanitizing protocols.
Bottle Ops: Bottling continues through this month as the wines are unaware of the current situation. Winemaker Montse Reece and cellarmaster Polo Cano prep the wines and make sure the bottling room is set up so the cellar crew can remain safe and apart. A cellar is one of the most sanitized areas at any time so rest assured our wines have always been and always will be produced in the safest of ways.
Think Different: It matters when you are a mid-sized winery selling wine across many channels and some of them are compromised (restaurants for one). Jim, Ed and I are busy working with our wholesalers and exporters to fill in the gaps while we all stay at home. Virtual tastings with some of our retail accounts and their customers have become a regular occurrence rather than travel into the market. Zoom sessions with our national sales team-either one on one or in a group-are the norm for now. This doesn't replace the personal touch and we are working on different ways to connect.
At Your Service: Colin Sinclair, Club Ped's manager, successfully worked with Ed to get the May club shipment out and we even packed this one in house and we made the decision not to include any printed materials-in order to be as 'touchless' as possible. Colin, Gary and Lizzy are connecting with our friends-you may have received a call or email from them. We have curbside service for our neighbors-something we have been doing since my grandparents opened the cellar door.
Reach out and touch someone, virtually: Unless you are living under a rock without a computer you know the world of the internet has taken on a whole new mission: connecting us during this time of separation. Personally we've had cousin zooms, grand and great grand kid zooms with my parents, cocktail parties, birthday celebrations, COVID Coffee Chats and, as previously mentioned, virtual meet ups with wine stores and their customers in several states. Sharing our stories, reminiscing, making new friends and visiting old ones are done in a different way but ultimately we are reaching out and remaining safe in this way.
Making these operations possible is what we are immersed in at the moment-and we are preparing for what will come once shelter in place is removed. What that will look like is currently being shaped by government but also with an eye to adapting to a new way of visiting with you. And you can bet, even though we have to maintain a safe distance, our hospitality will be as welcoming and engaging as it has been since my grandfather's time. We may need to be physically distanced and our goal is to be socially connected with you.
Categories
Recent posts
Popular tags