Vino In My Dino
June 24, 2020 11:05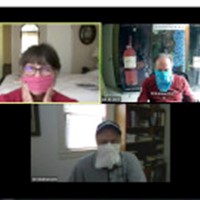 My notes from home over the last three months have included many topics during COVID19 and I'd like to revisit one of them and check back in with you-how are you? Or as Joey from the comedy series Friends said, How you doin'?
Day Ninety Whatever and 11 weeks into sheltering in place. Apologies for the reminder but we are all still here, summer is beckoning, things are opening up but the state and county here caution us all to remain vigilant. I don't think it is the stay at home that gets me so much as it is being hyper-aware when I am out doing the necessary or usual things. I had an actual doctor's appointment-not a virtual one. I was stopped at the door to have my temperature taken and asked a barrage of questions ending in did I know anyone who was ill with the coronavirus in my household. Personally, I'd lead with that question!
All things considered I am working through the stages of SIP: happy to work from home, overwhelmed by the tasks at hand, wondering why so and so has time on their hands to do puzzles, not know what day it actually is let alone the date, and finally forgetting to take my mask with me. I've learned to bring extras.
These days the eyes have it. Eye contact is key-has anyone realized how our eyes tell all when we have a mask on? While out the other day at the grocery store I was reminded of a memory from years ago by looking into the eyes of Jordan my checker (shout out to Big John's Market and their checkers-all doing a wonderful job!). We took the kids to a Gold Rush place in Coloma CA and part of the experience was a stage coach ride. We were riding along when suddenly we were stopped and the door flew opened to reveal a bandit with a bandana mask, shades of SIP! My eyes locked with his-and I realized he wasn't really into his role -perhaps an off day for this fellow. He continued with the "robbery" and we continued on our way saved by the sheriff, or the stage coach driver. The memory of how revealing his eyes were at that moment reminded me when I look at people today our eyes are the windows of our souls!
How are you doing? If I were to look into your eyes above your mask what would I see? I have heard from many of you and so far you are maintaining a healthy outlook on life at home/work at home/retirement at home/homeschooling at home and have made adjustments at this stage in the SIP game. While some of the states and counties are opening up earlier than California-lucky you-I am still waiting to throw open the doors of our tasting room and say directly to you, "how you doin'?"
 
Categories
Recent posts
Popular tags