Vino In My Dino
December 1, 2020 10:58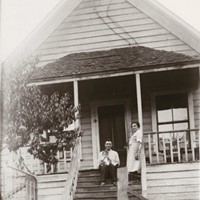 I was talking to some folks this week about my grandparents and what they would think about the pandemic. I imagined them saying 'we made it through some great challenges in the early days, we think you can outlast the current crisis.' They took the long view knowing they staked everything to make the move and created a legacy.

I often wonder what went through their minds when they bought the property in 1927. First, and most importantly, it became a home to raise the family and to support them. Prohibition had already gone on for 8 years, surely it will end soon (not for another six years).  The economy would hold up wouldn't it? Nope the Great Depression began 2 years later. Many obstacles met this young family and they adapted to their conditions: expanded the farm to provide food (my grandmother made her own cheese for instance and preserved foods to get through the winter); my grandfather developed a network of buyers (head of households who could apply for a permit) for the grapes in order to keep the vineyard going, they worked as a family in the vineyard and later the cellar, and they tightened their belts to get by once the hard times hit.

Feel a little familiar? Taking the long view is something we do naturally here at Pedroncelli. Taking the long view from the beginning helped my grandparents get through the tough times including the challenges along with the ups and downs of the economy with a recession thrown into the mix every few years (there have been 12 since 1945).

And now we have a pandemic. I guess one needs to come around once a century to keep us on our toes. So how do we take the long view of something predicted to go on for another six months or so?

I read a great quote in the paper the other day, "My kind of mantra going into the holiday season is that when it comes to COVID, it's not what you do, but how you do it," says Iahn Gonsenhauser, an internist and the chief quality and patient safety officer at the Ohio State University Wexner Medical Center. This is good advice for the holidays and beyond.

It's not what you do but how you do it. Keep this in mind as the state and nation urge us to keep within our bubbles, to wear our masks, to keep our distance physically. The other side of this is finding ways to celebrate the big and small occasions, how to connect if we are far from someone we love, how to make each day count instead of counting how many days the pandemic has gone on or how long we have to go.

Living this life of wine, blessed with two generations behind me and 2 generations ahead of me, frames my outlook on life. While what my grandparents did to get through the difficult times wasn't glamorous or fun they made it through. It is how they did it-with hope for the future and looking to better days ahead. For me those better days include family meals, going to a favorite restaurant, travel, wine club gatherings, tasting events, hugging, hanging out and seeing all of you-with a glass of wine in my hand of course!
 
Categories
Recent posts
Popular tags