Vino In My Dino
July 26, 2019 16:58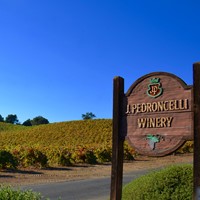 One of the things you do when you enter into another stage of winery growth is to write a mission statement. Trying to encapsulate 90+ years into one sentence is a challenge. We recently completed our first ever statement and it took collaboration of three generations to come up with one that rang the right bell. With our Mission in Mind, I'll take it apart phrase by phrase and sometimes word for word to show what it means to us.
Pedroncelli Mission Statement: We are a Sonoma County farming family, founded in 1927, sharing our legacy through sustainably produced exceptional wines.
Sonoma County is the starting place for us. Dry Creek Valley as an appellation came along years later but the roots were set into the county's soil when my grandparents arrived. Farming is what we do and have always done. Over the years we have made some changes and have had the future generations in mind while we are making the choices we do now when considering the varietal to plant or how to get the best out of a particular vine trellising system.
Family is who we are for four generations and counting. Not many family businesses make it past the second generation and our goal is to maintain going forward as fully family operational.
Founded in 1927 and is the year Giovanni Pedroncelli brought his wife Julia and young family to Geyserville, to a shuttered winery and 25 acres of vineyard, to a home that would sustain them through Prohibition, the Great Depression and start from scratch once Repeal rolled around.
Sharing our legacy with generations both past and future. A legacy doesn't end with one generation-it is overarching and looks forward as well.
Sustainably produced and certified. Doing what we have done for more than 90 years.
Exceptional wines are what we strive for with each and every vintage. Our 92nd harvest is just around the corner. Working with our winemaker Montse Reece, Cellarmaster Polo Cano and Vineyard Manager Lance Blakeley each contributing their exceptional talents will bring to your glass our our very best.
Categories
Recent posts
Popular tags