Vino In My Dino
April 24, 2015 13:36
We own 180 acres between three properties and not every inch is planted to vineyard or has a winery building on it. Our home ranch, which comprises a total of 90 acres, was the first piece of property purchased by my grandparents in 1927. It was a farm as well as a winery with plenty of room to grow vegetables and support the family with barnyard animals and the occasional deer. It sustained my family in those early lean years when my grandmother canned and made most of the food set on their table. I mentioned the family garden we had when I was growing up in an earlier post-and today we have an office garden planted to tomatoes, zucchini and onions. We have two other vineyards, both about a mile west of the winery, with riparian set-backs because they border Dry Creek. It is important to have buffer zones to promote the wildlife population. These supply the local wildlife with enough area to sustain them. Our buffer areas are teeming with turkeys, red tail hawks, the occasional mountain lion, snakes, all sorts of birds from blue jays to sparrows, possums, raccoons and the like. We have an owl box on the East Side Vineyards area and the importance of having Barn owls is to control the rodent population-they think gophers are pretty tasty. We had a family of four last year-hoping for another four or five this year. 87 years of being sustainable means being good stewards of the wildlife too. A toast in my Dino to sustaining the critters.
Our owl box in the evening light; our Mother Clone Zinfandel with hillside oaks.
For more about owls in the vineyard click here.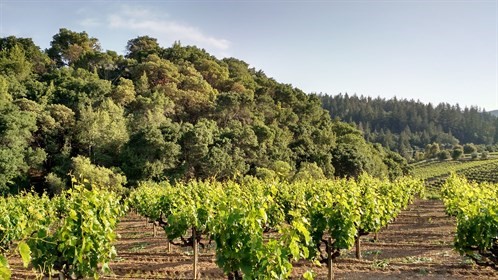 Categories
Recent posts
Popular tags