Vino In My Dino
April 8, 2016 16:00
Recently my dad Jim and brother-in-law Lance (our vineyard manager) attended an event in Dry Creek Valley to get more information on the Dry Creek Habitat Enhancement project. As part of Down to Earth month we'll go fish friendly.
But first, I'll take a walk down memory lane. When I was a kid growing up here 'Dry Creek' itself would dry up during the summer. The function of this major creek is to empty into the Russian River which in turn empties into the Pacific Ocean. When I was in high school the U. S. Army Corps of Engineers (USACE) began work on what would become known as Warm Springs Dam and Lake Sonoma. It was built for three main reasons: flood control, water supply and recreation. A fish hatchery was also part of the plan. As farmers we all know the importance of this vital element in both grape and wine growing. The argument was this dam was needed to save the lower parts of Sonoma County from excessive flooding in heavy rain years-see a photo below of the town of Guerneville during flood stage, with the dam in place-imagine what it would have been like without it!
Fast forward to 2012 or so and over the ensuing years lots of erosion along the creek banks has occurred because water is let out of the dam year round-widening and pitting in many places and making a poor habitat for the fish to thrive. In order to protect the endangered Coho salmon as well as the threatened Steelhead and Chinook, the Sonoma County Water Agency in cooperation with wineries, private landowners and the USACE proposed a six-mile habitat enhancement project. This development would use boulders, root wads and logs to create backwaters, side channels and shady habitats for the young fish that live in Dry Creek during the summer. Ultimately the project is intended to restore our creek to its original flow and restore the original ecosystem so that wildlife can thrive. We, as landowners, have agreed to participate in the program and are proud to continue this worthy venture. A toast with some Sauvignon Blanc (which grows along Dry Creek) in my glass to these future efforts.
The 1986 flooding of Guerneville along the Russian River.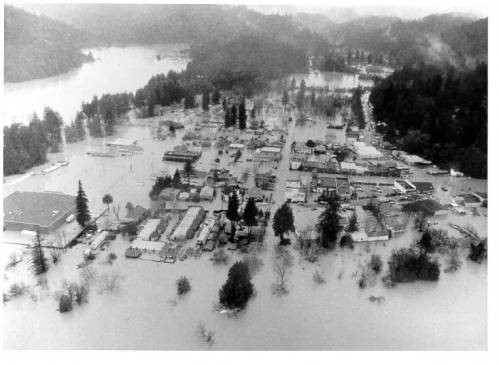 Categories
Recent posts
Popular tags