Vino In My Dino
March 15, 2017 11:40
I have been seeing the headlines in Wine Country newspapers talking about bud break in our neck of the woods. With a certain sense of excitement I went out to check our vineyard and found nothing. Hmmm. Too early? Different microclimate in our corner of Dry Creek Valley?
Wondering why we aren't in bud break yet I talked to Lance Blakeley our vineyard manager. He said it wasn't too far behind, maybe 3 or 4 days. The last week has seen the temperature soaring into the 80s and this pushes the vine along. He then told me to check the tops of the hills for signs of leafing out because vines growing in thinner soils tend to bud out sooner than those at the middle or bottom.
As a result I have two photos from today's vineyard walk. These are Mother Clone Zinfandel vines on our Home Ranch, the vineyard I look out on each and every day I am in my office. The seasons march by and before you know it these vines will be lit with green leaves like a flame on the arm of the vine. We look to the vineyards with excitement because the growing year is beginning. What size crop, how will our spring and summer pan out, will the grapes ripen slowly and evenly? All good questions that will be answered in due time. For now, we wait as each bud swells and bursts out of its wintertime cocoon. A toast in my Dino with a splash of, what else?, Zinfandel!
Here the buds are swelling up on this vine at the base of the hillside. 2-3 days away from opening up, this is the foundation of the crop-two buds mean two bunches of delicious Zinfandel. Look at the arms of this vine-which is about 35 years old-you can see the holes and notches of previous growth, telling the vine's story.
You can see the difference between the top and bottom of the hillside. These vines are 43 rows apart. Bud break!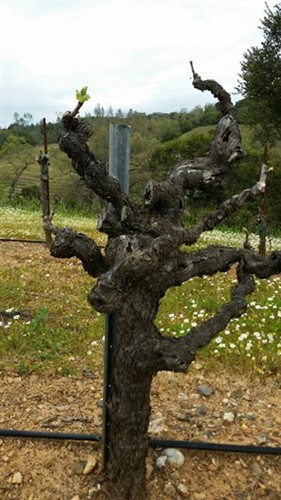 Categories
Recent posts
Popular tags