Vino In My Dino
February 17, 2016 17:40
I have focused before on the important role barrels and aging play in the making of wine. A review today of what happens in our cellar where over 2000 barrels are used in order to age the wine the best way possible-over time. The first quarter of each year sees the cellar crew focusing on the transfer of wine from last year's stay in barrel with the next vintage.
It is the quiet after the storm of a busy harvest and aging wines are resting in the barrel room. Their repose comes to an end a year or so after they have been filled with new wine. The barrels and the atmosphere in the barrel room (usually around 55 degrees and humidified to slow the oxidation) have incrementally oxidized the wine with visits by the crew to top them off every three months or so. This process preserves the overall condition of the wine, making sure no extra oxygen, a detriment, spoils the wine. The aging process is key to softening up wines, red wines in particular.
We use mostly American oak for our wines and add French oak when we feel it is the right fit. Pinot Noir and our Wisdom Cabernet Sauvignon are in this category. The size also matters and in our case it adds up to 59 gallons, which produces around 25 cases of vino. We feel this gives our wines the advantage because this size has the correct wine to oak ratio—just right to make the fruit shine and the oak components frame it. Additional bottle age will also do justice to the process and this is a story for another day. For now, a toast from my Dino to yours with a splash of Zinfandel.
Cellar work is never done or so it seems.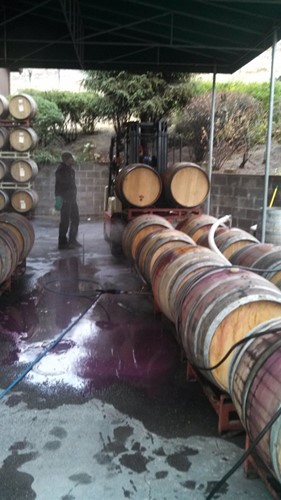 Categories
Recent posts
Popular tags