Vino In My Dino
April 21, 2020 09:47
April is Down to Earth Month and today is the 50th anniversary of Earth Day so no time like the present to talk sustainability. Our vineyards were certified sustainable on our 90th anniversary 3 years ago and the winery the following year. Let's see how we are doing in the vineyard and winery by checking in with Mitch Blakeley, fourth generation family member, who led the certification process. He knows the vineyard and cellar very well as he has worked with his dad Lance, who is Vice President of Operations and Vineyard Manager, since he was in eighth grade.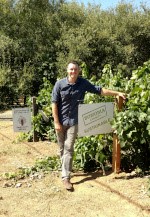 For starters, here is some background on the meaning of sustainability. The California Sustainable Winegrowing Alliance was formed to help grape growers and wineries practice sustainable winegrowing by following these tenets: good for the environment, good for the community and good for grapes and wine. To start the certification process Mitch filled out a few hundred answers to questions ranging from energy efficiency to packaging, vineyard practices and water use among others. Once finished we are audited and, since everything was in good order, we were certified. One of the reasons I like the sustainability program is it encourages doing better as we go forward. Each year we pick a project and work at getting better or smarter in both the vineyard and winery. Each year the auditor reviews the progress and approves another year of certification.
Why is the process so important to us? It put a pin in what we have been doing for 90 years-being good stewards of the land. Our responsibility is to the environment, to those who work for us as well as our community at large and the continuous improvement gives us higher quality in our wines. For the greater good don't we all recyle, use alternatives to plastic, walk if we can avoid driving hence causing less pollution? It is a collective action both as an industry and as a family that spurs us on to do better.
Mitch updated me on the latest audit and certification and the efforts we have made. "I'll start with the winery. In the last few years we have made changes in better lighting efficiency, the barrel program, and water use. For last year's project we focused on glass. Our glass was imported from China for many years. We made the decision to source as close as we could to the winery and chose a northern California company. To give you an idea of our scope, we produce 55,000 cases or 660,000 bottles." (Editor's note: We have also stayed away from the 'heavy' bottles knowing these add more to the carbon footprint.)
"Last year our vineyard project focused on decreasing the use of pesticides in the vineyard. The most consistent pest we treat for every year are the sharpshooters-they are devastating to our vineyard. Using approved preventatives, we treat early and often to suppress whatever the vineyard may be exposed to and so far we have seen about the same level of success in the past few years by cutting rates and at longer intervals. This helps with operating costs and overall health for the vineyard. Our project this year is to replace our tractors with new models that are more fuel efficient as well as put out less emissions. We are going to apply for the Carl Moyer Grant from the state of California to help fund the replacement of the old tractors." 
I asked him if he has noticed any changes since becoming certified, "In my opinion I have seen an increase in quality in the vineyard which shows in the wines; in the vineyard it is the new plantings where we are changing the way we farm and they are showing very good quality; our Wisdom and Three Vineyards are recent projects and we have been more aggressive to stay on top of diseases. One of the new practices includes using rope to tie vines as compared to plastic ties; the rope or twine disintegrates over a couple of years. The plastic constrict the vine to the wire which we found created an open wound for disease to enter-with just this one small change it is helping overall quality and health of the vine."
Thank you Mitch-I enjoyed our conversation. If you have any questions or need more information about our program please let us know by sending an email to julie@pedroncelli.com  Until next Earth Day keep up the good work.
Categories
Recent posts
Popular tags