Vino In My Dino
December 29, 2016 13:19
Where were you in 1976?
The luxury jet plane, the Concorde, embarked on its first commercial flight in January.
The Winter Olympics were held in Innsbruck in Austria and the Summer Olympics were held in Montreal, Canada. Nadia Comaneci (from Romania) earned the first of 7 perfect scores of 10 in gymnastics at the event. Bruce Jenner won the Decathlon
The Apple Computer company was formed on the 1st of April 1976 by Steve Jobs and Steve Wozniak.
Jimmy Carter was nominated for U.S. President at the Democratic National Convention in New York City in 1976. He won the election to become the 39th president of the United States of America.
Microsoft was officially registered with the Office of the Secretary of the State of New Mexico in the United States in 1976.
The Concorde has stopped flying, we all know what happened with Bruce, Steve, Steve and Jimmy. And we all remember Microsoft-the huge software company that missed that whole personal device craze.
One other thing of note happened in 1976. Kathy Cross joined J. Pedroncelli Winery, Inc. as Secretary and Office Manager. A post which she has quietly held for 40 years. It took a mention from husband John Cross while talking to my mom Phyllis that brought Kathy to Pedroncelli-she was looking to shorten her commute which at that time took her from Healdsburg to Rohnert Park to work for State Farm. Once hired she commuted 9 short miles to Geyserville and the rest is history (or herstory).
There haven't been too many long term bookkeepers at Pedroncelli-my grandmother Julia was the first, my mom filled in for a time followed by a few other secretaries. When Kathy started I don't think she thought it would be for this long!
She has been at Jim's right hand watching the ebbs and flows of the wine business; the changes from high-volume Sonoma Red to Single Vineyard varietal wines. She went from manual type writer and adding machines to networked work stations and printers and web-based software. She's watched and guided a whole new generation of Pedroncelli's grow into their own, preparing to lead the next generations along a new and wonderful path. She's been here through births and deaths and life changes and celebrations, always at her desk quietly encouraging and guiding the family-our family--of which she has been a big part for a very long time. And her family has grown throughout the years as well—most recently with two grandchildren who are the light of her life.
Saying goodbye to someone who has worked at the winery since 1976 is a challenge to say the least. My mom calls her my dad's 'office wife' and for sure it will be a difficult transition for all of us-40 years, 7 months and 26 days later Kathy is retiring on Friday December 30. A toast to Kathy with a splash of Sauvignon Blanc-her favorite.
From a favorite photo of Kathy and her daughter Katy who worked in our tasting room for a time. Cheers ladies!
The bus on our way to Kathy's retirement lunch-Roederer Sparkling all around!
Happy retirement Kathy!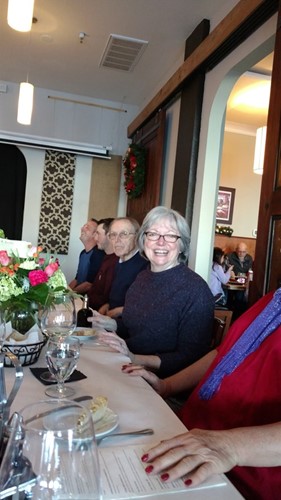 Categories
Recent posts
Popular tags