Vino In My Dino
January 13, 2017 13:05
Earlier this week I was looking out my office window wondering if the rain would ever end. It was difficult to see beyond a few hundred feet the visibility was so poor during the deluge that particular afternoon. You might say you can't see the vines for the sheets of rain coming down. Contrary to last month, when the soil was still absorbing the rain, today it is running off as fast as it can.
The creeks are full, sometimes to overflowing, because they are reaching their limits as water courses down from the hills. The way our property is situated we have a major tributary, called Canyon Creek, which runs east to west across and under the property. It joins Dry Creek about two miles west of us. It is backed up as it joins the swollen creek because there is so much water heading down to where it meets the Russian River in Healdsburg, 9 miles downstream.
The really good news from this atmospheric river dropping nearly 11 inches on our vineyard in the last week, with other areas receiving 22 (!) inches, is the drought has bee officially called off for most of Northern California. The sad news is it came at a cost-erosion, trees falling, 3000 residents evacuated in the Guerneville area (where the Russian River flows on its' way to the ocean), roads closed and roads washed out. For rain geeks here is the Sonoma County Water Agency website with the latest totals--typically our average rainfall by now is 11 inches-and we got that in less than a week! Also of note is the level of Lake Sonoma-which was built to hold back water and flood control and is already at 113%.
For now, we are happy for a break over the weekend as more rain is predicted next week. A toast with a splash of Mother Clone Zinfandel in my Dino!
The first photo was taken on December 21st and the second one on January 13. Notice the difference in the color of the water.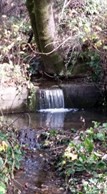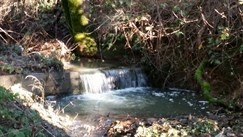 Categories
Recent posts
Popular tags