Vino In My Dino
September 28, 2016 16:55
Cabernet Sauvignon, the king of red wine grapes, gained its' title because it is the most widely planted red wine grape in California with nearly 88,000 acres. (just for stats the next most widely planted grape is Zinfandel coming in at just over 47,000 acres). Secondly the out and out demand for the grape outstrips almost all others-Pinot Noir perhaps giving it a run for the money. We continue to farm 29 acres of this noble grape and as harvest winds down we take a look at a special block, 007, as it is harvested.
The final block off of our Cabernet Sauvignon vineyards was picked today and the light is at the end of the tunnel for everyone here at Pedroncelli. Named Block 007 by Jim Pedroncelli, who added a zero to the block name, it is a vineyard planted with specialized trellising and site specific qualities.
Block 007 was replanted in 1992—on the Scott Henry trellis system which splits the cordon arms into a double tier with the upper arm usually bearing about 3 tons of grapes per acres while the lower arm bears about 2 tons per acre. The vineyard land is well drained, right next to Canyon Creek where it is gravelly and ideal for growing Cabernet Sauvignon.
The warm weather we have had in September was welcomed as the key to ripening the grapes-coming in at an average of 26 degrees Brix. This level points to a rich and full flavored Cabernet. It is, after all, called hang time and the longer these grapes hang the better they develop. Balanced acidity, pH and sugar are the foundations of a great wine.
You may notice in the photo below there is a difference in how the grapes are being emptied into the crusher. We did run into a snag as harvest was winding down. The crushpad hoist for the gondola broke. With just days left to harvest the last of our vineyard blocks, vineyard manager Lance came up with a plan: borrow equipment. Favors were asked of three growers and they provided: the tractor, the bin lift and the bins. We managed to finish picking the Petite Sirah, Syrah and the Block 007 Cabernet this way. As is so typical of how we do business here in Dry Creek Valley, borrowing the important equipment to get the job done is an illumination of neighbors helping neighbors. It helps to have been here for so long but I suspect anyone needing help will find it among friends here in the valley. A toast to the vintage with a splash of Block 007 in my Dino!
Fully ripened Block 007 Cabernet Sauvignon headed for tank#105.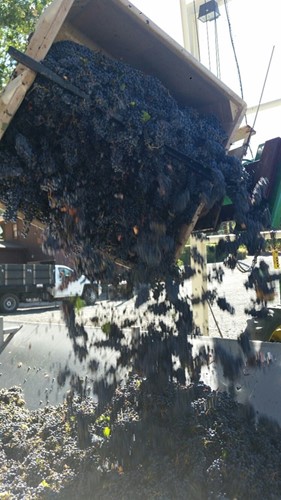 Categories
Recent posts
Popular tags