Vino In My Dino
August 31, 2017 09:04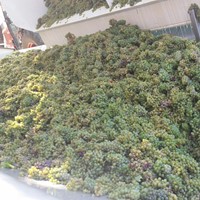 August 28 was the official date for our 90th harvest. 11 acres of Sauvignon Blanc was picked the final week of August leading into the first of September. Pinot Noir was also brought in from a grower or two in the Russian River Valley.
Part of the difference with this year's harvest is the vineyard crew is relying more on machine harvesting than ever before-a milestone for us because we first machine harvested a small test block last year (Cabernet Sauvignon) and it went well. Because our vineyard wasn't planted with machine harvesting in mind, in the last 10 years or so we have changed the way we think about grape harvesting. This means Lance Blakeley, Vineyard Manager, has been preparing those older vineyards and when replanting he has made sure the vines will hold up to the machine.
Training the vineyard specifically for machine harvesting whether old or new is a matter of using what we call cane pruning. This actually does a couple of things for the vineyard crew which is usually short of time: less passes in the vineyard due to this type of pruning and it can be mechanically harvested. 30 years ago John Pedroncelli didn't like the idea of using machines because they seemed too rough on the vines. Technology has come a long way and now winemaker Montse Reece has approved of the quality this new way of picking grapes has brought to us.
In the last 10 years another telling reason for going the way of the machines is labor. Not only now but for over a decade it has been difficult to gather the crews needed for picking grapes. There are a variety of reasons (yes we can blame the Cannibus industry too) but it comes down to one thing: the harvest. When the grapes are ready we need to act and act quickly to preserve the quality of the fruit. When they say 'wine begins in the vineyard' they mean you need them at the prime moment for quality and flavor. One area of our vineyard that will never be machine harvested is our Home Ranch. Zinfandel is the primary planting on head trained vines-not conducive to machines. Hillsides are also a hindrance to machine harvesters so the 50 acres here will always need a crew. A splash of Sauvignon Blanc as we enter the fray and a toast to our hardworking vineyard and cellar crew-their work is just beginning.
Categories
Recent posts
Popular tags