Vino In My Dino
May 27, 2020 10:57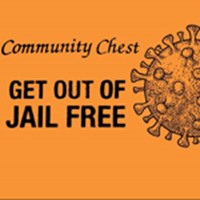 There's Plan A and Plan B. Both of these have merit because the first plan is backed up by the second. A year ago I would never have thought we'd need a Plan C. Sheltering at home and limiting our forays into the community have been a part of our lives for weeks. Have you received your 'getting out of jail free' card? We haven't just yet at home or at the tasting room but it is coming. The weather is warming up, outside venues like parks are opening up and we are making plans to throw open the doors with a few tweaks, of course, because of COVID-19 measures. So Plan C it is.
This 'new' normal is going to govern our lives over the next year or so. There is no 'boldly go', more like  slow and steady wins the race. Until the virus abates, or a vaccine is discovered, we are going to socialize in a new way. We always took for granted the hugs and kisses, handshakes and pats on the back but the 'new' normal includes continued social distancing, wearing face masks, sanitizing like crazy-as if we haven't already!
The state and county are doing their best to phase back into things-phase 1 and 2 have been accomplished and now onto Phase 2B and beyond. In a way our "Get Out of Jail" card or Phase 3 will allow more freedom and allow more movement-and like the state of California says we are going to take it very slowly in order to protect all of us. Tasting room visits, once given the green light, will include some changes for the foreseeable future. We are working hard to put together a memorable and friendly visit.
First and foremost is safety of all-staff and visitors. Secondly we still need to distance ourselves so reservations for any visits will be taken which is a first for us. We have been a tasting room with walk in ability since we opened. Thirdly I am now taking 'eye enhancement' classes so I can communicate above my mask. While we won't be able to gather in large groups in the beginning we will certainly make you feel at home!
When formulating Plan C I realized we already have some of this down. When we were sheltering in place we gained some experience in the retail world. We have now grocery shopped in a different way, bought things at stores or other essential places masked and protected, had a video doctor's appointment or have perhaps done a curbside pick-up.
Our Plan C will include a whole new wine tasting experience at Pedroncelli-maybe I should call it Plan P? First up, there will be some prep work ahead of your visit to make sure we know how many are in your party, what you'd like to do, what day and time you'd like to come by. We'll use a touchless system to take your reservation. We'll set a place for you, have our tasting list ready with some flight choices or have you choose your own flight. We'll provide you with effortless service, regale you with the stories behind the Pedroncelli name or the wine you are trying, and we'll enjoy each other's company even though we are maintaining a safe distance.
I had a dream the other night about our new tasting room experience post-COVID. I was back in an episode of MASH with the doctors as tasting attendants and I was sitting at a table full of test tube samples. Glad I woke up and it wasn't true! Needless to say our new plans for you will include all the things for a great experience: tasty wines, a sense of humor and you!
Categories
Recent posts
Popular tags