Vino In My Dino
May 25, 2016 15:47
Replanting a portion of vineyard is a big project. When a block of vineyard has aged out (think low production--anyone ever hear of old vine Cabernet Sauvignon?) or become too virused to farm economically it is time to replant the vineyard. The subject is an almost 3 acres Petite Sirah block that was riddled with virus, nearly 20 years old at the time and we made the decision to pull it out. The process takes time so basically you put a portion of vineyard out of production for 2-3 years.
Originally planted to Zinfandel, John Pedroncelli replaced the aging vines with Petite Sirah to to be part of our Mother Clone blend. It was pulled out two years ago, lay fallow for a year and last April (2015) was planted with St. George rootstock-a "drought tolerant, aggressive hillside grower" as vineyard manager Lance Blakeley describes it. And coincidentally what all of our Zinfandel is planted on because of its' hardy nature.
We gave the rootstock a year to settle in and then in mid-May two fellows from Top Notch came with budwood and went to work, grafting 1680 vines in a day and a half. A note about the process: rootstock is just what it says-the base of operations for the vine and it doesn't produce fruit. You need to graft on the type of grape that will work well on this site. We chose the Rockpile clone of Zinfandel which is said to have smaller clusters and smaller berries with more intense fruit characteristics. While we'll see grapes by 2018, the proof will be in the pudding so to speak when the vineyard matures in another 5 or 6 years. Until then I'll post updates on the brand new Zinfandel vineyard, the third generation of vines on the property.
Even #dirkthedog was on the job keeping an eye on the new Zin block.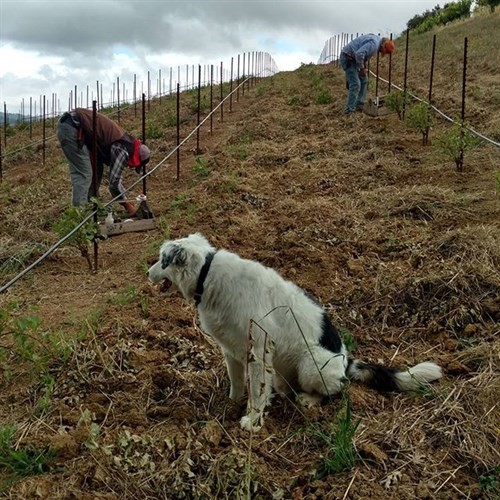 Categories
Recent posts
Popular tags