Vino In My Dino
January 27, 2018 14:42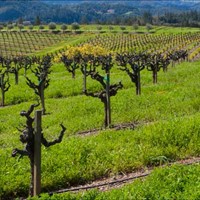 Time for a midwinter check-up from world headquarters of Pedroncelli Winery Inc-aka my office. The vineyards are in full dormancy and the crew has finished pruning the vines back to their two buds-next vintage's crop. The cover crop has grown lush with the rain and the mustard and bell beans are set throughout the rows.
We've received a smidge just over 13 inches of rain as of the end of January. The average rainfall is at 16 inches or so. We're off by 3 inches and remember we can't compare with the deluge of rainfall received last year. And we haven't gone all the way back to a drought—we're pinning hopes on the rainfall in the next two months to help fill in the reserves. And the good news from the Corps of Engineers that monitor outflow from Lake Sonoma and Lake Mendocino is they have slowed the outgoing water so they have enough in reserve. At this point the lakes are 82% and 89% of capacity thanks to last rain year's contribution and their need to protect our water resources.
Snow fell in the Sierras the last week of January and the hope is to recoup our snowpack in the next couple of months because it is the all-important water supply to many of us in California. I'll have another weather report in April-which is also Down-to-Earth month where I'll focus on our newly-minted Sustainability Certification and what that means to our vineyards and wines.
Categories
Recent posts
Popular tags