Vino In My Dino
June 28, 2021 09:52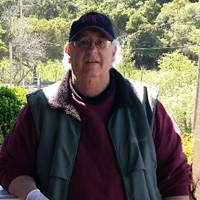 A few months ago my sister Lisa made a suggestion to write about our staff and their connections by using the PBS series "Finding Your Roots" as inspiration. I profiled Manuel Diaz and Polo Cano so far-both of these men have worked for Pedroncelli for a combined 60+ years.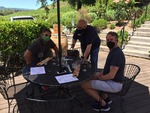 Gary Gross, our Tasting Room Manager, is this month's subject. Gary has worked with us for 20 years and this makes him one of our long-time employees-with a twist. He is retiring in July, July 4th to be exact. Independence Day takes on a whole new meaning for Gary this year.

His roots are Midwestern. He was born in a small farming town, the county seat, Princeton Illinois. With a population of 8000 he compares it to Santa Rosa as it was 50 years ago-a farming community and is the reason he ended up liking Sonoma County and later made it his home base later on in his career.

The reason for the move? He quipped, "Six months between October and February-that's enough winter for me. Following college where he obtained a Voluntary Agency Administration degree he found a job in Pasadena, California with the Boy Scouts of America.

Gary already had history with the BSA-he and two brothers achieved Eagle Scout status in large part thanks to his parents who were stalwart Boy Scout supporters and leaders. One other brother didn't make Eagle Scout-but that is a story for another day.

He met future wife Joy at a BSA training in Oregon but it wasn't until 5 years later when they met again-she as an interviewer and he the interviewee-when interviewing for a position as District Director in Northern California.

He later teamed up with Joy to operate International Foundation of Employee Benefit Plans and was Western Regional Director where they marketed and administered an intern program and made the move to Tracy. Following this they ran Gourmet and Natural Foods Company for 10 years and left this company to work for one of their customers, G & G Specialty Foods, out of Santa Rosa.

They both had connections to Sonoma County: at one point Joy had lived in Sebastopol and Gary had visited Sonoma County on occasion as well as spent time at the BSA camp in Cazadero over a few summers. They loved their time in Sonoma County so it was a good fit when the G & G opportunity brought them here.

He shared the memory of his first visit to Pedroncelli, several years ago. He found the winery through his roommate's father who, at the time, was a Vice President at Wells Fargo. In the late 1950s the bank relocated him from the central valley to work on the burgeoning winery business in Napa and Sonoma because of his deep knowledge of agriculture. He sent Gary and his son winetasting in 1978 over Thanksgiving weekend because he had visited the wineries himself and knew almost every owner at the time. The family lived in San Rafael so it was easy to visit wine country from there. 

Fittingly, while working for G & G, Gary also worked part time for events at Pedroncelli as well as filled in on the occasional weekend in the tasting room. When he left G & G he came to Pedroncelli as Tasting Room Manager.

Reminiscing, he says it has been fun to watch the changes in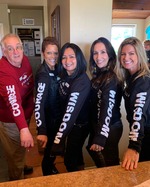 why people come to taste wine. Over the years he has seen the shift from people seeking out wine for wine's sake to more of a social experience and the spike in the growth of wine country tourism has expanded the expectations. "We've been able to expose people to the wines who are new to wine; this place makes wine very approachable, it makes people feel comfortable and brings the wine experience into their life/dining experiences.

After 20 years of visiting with guests and sharing stories I asked if there was anything we don't know about him. He shared he is a NASCAR fan and has attending a race at Daytona on his bucket list.

His time in the tasting room will be remembered for his diligence duing the pandemic in making sure we welcomed guests appropriately while keeping staff safe as well. Among other things he is always dependable to map out and execute our events. Helpful, a storyteller, a foodie, with a deep knowledge of wine and a love for it as well. His Boy Scout sensibility has helped us through many times where a quick fix was needed-he always had the right tool or idea. Their motto is Prepared. For Life™. Quite fitting.

Just know he'll be enjoying much deserved time with Joy and his extended family, including his 98 (!) year old mother. Do you have a story or memory of Gary? Share them so I can in turn put them together for him. We all wish you well as you enter retirement Gary!
Categories
Recent posts
Popular tags