Vino In My Dino
March 30, 2021 16:15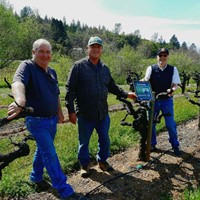 The other day my sister Lisa shared an idea she had to highlight our staff by telling their background story. She is a fan of the PBS series Finding Your Roots so she envisioned these stories as connecting our co-workers between where they came from and where they are now at Pedroncelli.

Serendipitously I already had something in the works about our Vineyard Foreman José 'Manuel' Diaz, who had been featured as an Employee of the Month by the Sonoma County Winegrowers in the local paper. Manuel was nominated by Jim and Lance for the Vineyard Employee Recognition Award which is awarded for individual achievement and exceptional performance. He has worked 37 years here and continues to love what he does. As the article said: "Sustaining a family farm requires love, commitment and hard work. We are proud to recognize the people who help us grow the world's highest quality winegrapes." 

The photo above shows Jim Pedroncelli presenting Manuel with a framed copy of the honor along with Vineyard Manager Lance Blakeley. Here is Manuel's story. 

Manuel was born in the village of Tumbiscatío, in Michoacán. His grandfather had moved there from Spain and his father, Feliciano, grew up there as well. The path to the U.S. began with the Bracero program and Feliciano spent a few years in this program and then made a permanent move. Manuel, at the age of 18, followed his father in 1978. His first day in Dry Creek Valley was March 23rd—and he went to work for Raymond Burr, the late actor, who later on planted vineyard.

A short time later his father came to work for John Pedroncelli and Manuel followed in the early 1980s. He first worked on the bottling line and then in the cellar for about 10 years. He then made the move out into the vineyard when his father was no longer able to work there and later on became our Vineyard Foreman.

Trials and Triumphs:
By working in the cellar first he realized how important it was to have quality vineyards. Learning how to get the best grapes through farming practices was key in the connection. He says it is eye opening what goes into why you do certain things in the vineyard (fertilize, pruning, crop cover) in order to make great wine.

He became a home winemaker for a vintage or two and made late harvest Sauvignon Blanc. He realized it was easier to make red wine than white wine as it is more delicate an operation and decided to give up his winemaking dream.

His philosophy is very similar to John Pedroncelli's when it comes to how we work together. He considers everyone as the whole team-while each contributes to the work it is the crew together that makes it all flow from the vineyard to the cellar.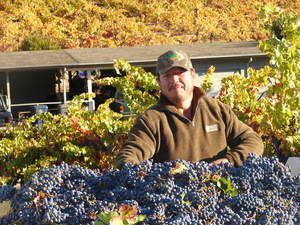 Another challenge he has met is putting together the harvest time crew for picking grapes. A bigger crew brings in many personalities-sometimes as many as 25. This is the reason he was nominated for the  award-he is able to organize, talk to and encourage the different people coming together for the short time at harvest so things will go smoothly.

I have seen him at times in the evening driving along the vineyard avenues-he says that is when he reflects on the day, looking for what needs to be accomplished, moving toward the next project.

Other milestones include producing a video about Adelante, a program aimed at educating and encouraging Hispanic youth, meeting and marrying his wife Norma in 1989, and the birth of his five children. Quite a few connections from a small village in Mexico to Pedroncelli in the span of 37 years.
 
I will continue the stories from more of our staff and beyond all the while keeping in mind your connection to us and the journeys we have all made. 
Categories
Recent posts
Popular tags