Vino In My Dino
June 12, 2015 16:03
As I mark my 30th year in the family business of wine, my post today is a reflection on learning the ropes of sales and marketing from my dad. Once I graduated from the tasting room to the office I began to learn the intricacies of the wholesale business through my dad Jim who had established this network over the previous 30 years. He and his brother John had hit their stride at this point in the second generation's story; vineyards and production had expanded and there was wine to sell. The beauty of my dad and uncle's partnership was they had divided the business almost in two with John taking care of the vineyards and winemaking and dad heading up the selling side. They met in the middle when one or the other overlapped. These meetings are legend among us because they literally met in the yard between the offices.
So I took a page from my dad's book and plunged into his end of the business. Plunge is the right word-I had no idea what I was doing but soon put my degree in English to work because I began producing a newsletter which in turn helped me to communicate our story to wholesalers and customers alike. I also began to travel much as my dad had traveled. During this time the Sonoma County Winegrowers put tours together and sometimes it was a week or two in various US markets. One moment I cherish to this day is when Rodney Strong (himself!) walked into one of the event venues where the wines weren't in place yet and trade would soon be lining up to taste. He said to the small group of winery reps "we are all in this together to promote our county so let's get to work (delivering the wines to all the tables)". From that point forward I have seen working with other wineries to broaden the message and working together as the ultimate one-two punch of marketing a region.
I learned to present wines at sales meetings, to develop materials the market needed and to find the right balance of what was actually needed-this was during the days before internet and you shipped pounds and pounds of sales kits, back-cards and fact sheets. If you visit our case goods warehouse there are some relics of those days stored there even now. There are some great moments and cringe-worthy moments during these formative days-sometimes my enthusiasm or impatience ran over and are stories for another post. A toast to learning by example with some Zin in my Dino!
Another throwback circa 2005. Stepping back in time is fun-less grey hair! Oh, Ed is the guy next to me. We have worked side by side for 13 years.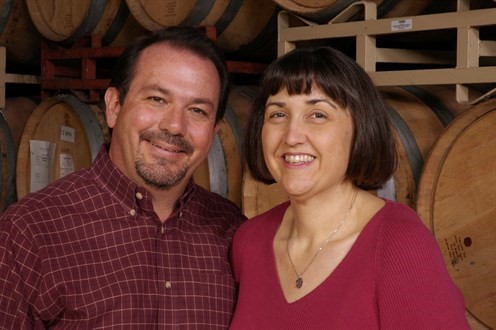 Categories
Recent posts
Popular tags