Vino In My Dino
October 21, 2016 16:29
We hosted a wonderful group of young professionals from northern Sonoma County recently. Officially titled Healdsburg Young Professionals and Entrepreneurs, HYPE is an off-shoot of the Healdsburg Chamber of Commerce. I was 'hyped' up because I enjoyed hearing about their individual stories, I hope you get 'HYPEd' too.
As I spoke to several of the attendees I was inspired to weave all of their careers into one blog post in support of what they are doing to make this a great place to live. The evening was lively, they learned about our story and we listened to theirs. I believe you would enjoy being introduced to them. Follow up if they provide something you are looking for whether it is a backyard organic garden, hotel room, balloon ride or that perfect wine country career.
Joanna's Nannies provides babysitting and event childcare when you are attending an over-21 event or just want a bit of alone time.
Dr. Jessica Klein, a Healdsburg native, opened Wine Country Vet Hospital in Windsor and will take good care of your pets and you can enjoy a glass of wine while you are there.
Jeremy Nusser and Amanda Dunker have a great idea for your backyard with Avalow. Their motto is Eat Well. Garden Often and they install and maintain raised bed gardens—all you do is sit back and enjoy the fruits of their labor!
Rachel Droesch pulls double duty as a tour guide for Healdsburg Wine Country Walking Tours as well as a wedding event coordinator for XOXO Events. 
Julie Hagele is the development director for Rio Lindo Academy a co-ed Adventist Academy on a beautiful hilltop campus.
Shannon Eckerman will give you the ride of your life with Up-Away balloon rides over our lovely area.
Alexis Greenberg Photography Studio will take your portrait or capture your wedding day and lovely landscapes.
Kenneth Sipes Cinema will do the honors of filming your special day.
Erik Neztsosie and Sarah Krug have some of the best rooms around if you are in Healdsburg. A stay at the Dry Creek Inn is perfectly located for your wine country visits.
Lauren Wyer of Piazza Hospitality will point you in the direction of their properties in downtown Healdsburg, luxury hotels and great restaurants including Spoon Bar-one of the trendiest spots to enjoy our little town.
Alissa Morse represents CPI International and while you may not need their services when you visit they offer the highest quality, most reliable solutions to chemists, microbiologists, and scientific professionals in our industry.
Maybe you'll fall in love with Sonoma County and would like to work here-Lindsey Brown of Job Tango will provide you with a great support system for you. If you are an employer use them to help find the right person for the job.
Brad Pender at Healdsburg Lumber Company can point you in the direction for all of your DIY projects or professionals to help you complete that redesign.
Looking for a home? Maybe you'd like to check in with Karen Massey at the City of Healdsburg where she is the Community Housing and Development Director.
Finally Jon Koons represented the great Russian River Valley winery Inman Family Wines, and even took home a magnum of our Cabernet Sauvignon. Enjoy Jon!
A toast with Zinfandel in my Dino to all of these great professionals whom we are lucky to have in our midst. And special thanks to HYPErs Aleena Decker, Rachel Droesch and especially Alexis Greenberg for the photos!
HYPE first gathered for some Pedroncelli wine and snacks.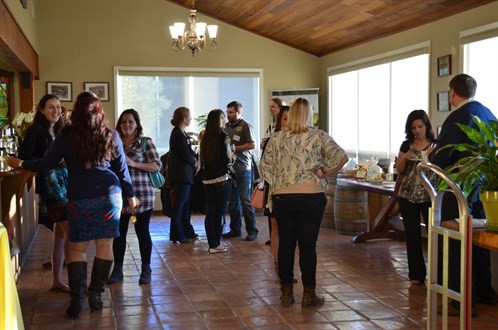 Part of their networking time was spent picking one of six questions like a favorite aspect of their job, if they were a wine what would they be and why or a goal they'd like to achieve by the end of the year.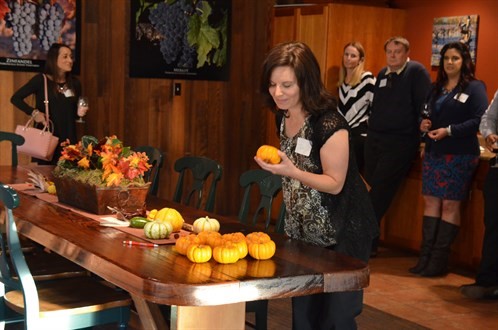 Categories
Recent posts
Popular tags