Vino In My Dino
September 30, 2019 15:49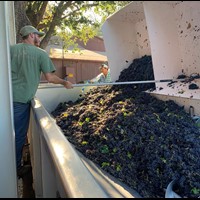 We usually are wrapping things up as September comes to an end-but not this year. We didn't pick our first grapes until September 4th and will be harvesting grapes until the 2nd week of October. Here are a few observations from the busy days of September-and a final wrap up of numbers for you coming your way soon.
If there is one word we can use for Vintage 2019 it is 'steady' and was coined by Mitch Blakeley, fourth generation family member, when he described this year's harvest at a recent staff meeting. His role is to assist in the vineyard with his father (and our vineyard manager) Lance as well as in the cellar as needed. As a family business you need to be light on your toes and fast on your feet in order to respond to the many responsibilities that comes when the grapes are ripe.
The harvest really began months ago when our dormant vineyards were seeded with the heavy rainfall received in the winter which delayed the start of growth in the vineyard by a couple of weeks. While the steady and above-average rainfall (20 inches or more above the normal 40" average) was welcome and extended into May, the moderate growing season that followed was equally as important and the two factors are the reason for the full production the vines are producing in 2019. No heatwaves, no big cooling off, we had an evenhanded, nice and 'steady', growth and development in the vineyards.
Since the first day of picking grapes, which was also delayed by a couple of weeks (see the pattern?)- this sense of steadiness grew over the month. Each varietal like Sauvignon Blanc, Chardonnay or PInot Noir had its moment and was picked at the right time. We didn't pick our last Zinfandel block until the end of September which was a sign of the season and continued the pattern. Cabernet Sauvignon, Sangiovese, Petite Sirah and our Portugeuse varietals are still hanging because of the cool temps at the end of the month. Mid-month there was higher heat which tilted some of our days over 100 degrees but just a few days-and all this did was speed things up a tad.
It isn't over until the last grape is picked, the last tank is fermented and the wines slowly make their way to bottle (Sauvignon Blanc and Rosé) or to barrel (Zinfandel and Cabernet Sauvignon). I'll have more of the story behind the 2019 harvest next month.
Categories
Recent posts
Popular tags