Vino In My Dino
March 26, 2019 14:13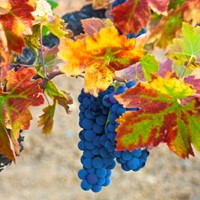 The source of Zinfandel at Pedroncelli is mostly from the Home Ranch where 33 acres of it grows on the hillsides. We do have two other vineyards we harvest from: the Bushnell Vineyard and the Faloni Vineyard. All three areas are in different Dry Creek Valley areas or neighborhoods. Let's take a look at where they are and the difference a mile or two makes.
Mother Clone Hillside & Headpruned
The Home Ranch which is the first purchase by founders Giovanni & Julia consists of many gently rolling hillsides now planted to Zinfandel, Sangiovese, Petite Sirah and a touch of Cabernet Sauvignon. 33 of the 50 acres are blocks of Zinfandel from the oldest (over 100 years old) to the youngest (4 years old). What makes these hills so perfect for Zinfandel? The rocky soil, the rootstock which is St. George and vigorous since the soils are more challenging, the site specific plantings where each block gains the right amount of sun hence ripening. Our Mother Clone shows the spice-berry dynamic which is Dry Creek Zin 101-freshly ground black pepper combined with ripe blackberry fruit.
Bushnell Vineyard: Bench & Headpruned
Four miles south on Dry Creek Road is where the Bushnell Vineyard is located. A long time source of Zinfandel and Petite Sirah it was first owned by Giovanni Pedroncelli who sold it to his daughter Margaret and son in law Al Pedroni in the 1950s and they tended the vineyard until the 1990s when daughter Carol and her husband Jim Bushnell took over. The 14 acres are located on a bench above and on the east side of Dry Creek Road. We see singular Zinfandel from this property with jazzy spice and warm clove notes combined with the ripe berry core.
Faloni Vineyard aka Courage: Valley Floor & Trellis
Our newest addition is the Faloni Vineyard located 2 miles west of the Home Ranch on West Dry Creek Road-a stones' throw from our Wisdom Vineyard. Dave and Dena Faloni are a three-generation grape growing family (hmmm familiar theme) and their vineyard is on the western part of the valley floor. While most Zinfandel in the valley is head-pruned Dave has trained his vines on a trellis. He knows every quirk of the soil and every vine on their 24 acres having farmed it all of his life. Our Courage Zinfandel exhibits floral notes combined with deep flavors of bramble spice and boysenberry jam.
Categories
Recent posts
Popular tags