Vino In My Dino
April 28, 2015 13:30
I remember when my dad used to go on wine deliveries in the early years while we were living in the midst of the winery operations. When he joined the family business officially in the 1950s he took on the day to day sales and marketing responsibilities while his brother John took care of the wine and vineyards. Delivering the goods was one of the many areas of his expertise. One magical day I was invited to go with him on deliveries in the huge Dodge truck with the winery name emblazoned on its' doors. I remember meeting many of our accounts as we made various stops on our way to San Francisco. I must have been about 5 or 6 years old at the time. While he no longer delivers wines directly, this day remains in my memory because of the shared time on the day-long drive (and the stop at the Doggie Diner on 19th in the City). I don't think it had anything to do with my future career choice but as I look back it certainly cemented another facet of the business in my mind. When I was raising our children we involved them in various activities including wine tastings. Now our daughter Adrienne is a winemaker in Solvang, California! Our son Joe loves wine and is our ambassador in the Reno, Nevada area. My nephew Mitch has been working with his dad Lance in the vineyard for many summers while in school and is graduating from college next month. He'll begin his work at the winery shortly thereafter. I look forward to future generations joining us as we continue our family legacy. In celebration of Down to Earth Month I think sustaining a family for going on four generations is downright sustainable! I'll celebrate with a toast to family with some Zin in my Dino.
Visit our Family Gallery here-you'll see me and my sister Cathy at a wine tasting in downtown Healdsburg in 1972! John Soule and my dad Jim are there too-doing the pouring.
2nd and 3rd generation Pedroncellis. We're writing the next chapter for future generations.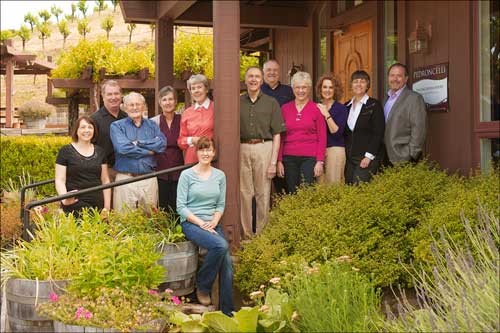 Categories
Recent posts
Popular tags