Vino In My Dino
November 23, 2016 15:04
Wine pairings have happened over the ages without much thought other than wine goes well with food whether it was a snack, lunch or dinner. It rounded things out, made life more enjoyable. Water will do the trick for sure but there is the synergy between wine and food or wine with food that prompts me to write about it today.
I grew up in a family of six with at least one grandparent joining us for dinner each night. Wine was and is always a part of this meal for me. To be honest I don't remember my parents making a big deal about it. There was food and there was wine. End of story. For my grandparents and my parents WINE was our way of life so why wouldn't it be part of the meal? I consider myself one of the lucky ones-growing up among the vines, looking out at the same vineyard view from my office (formerly my bedroom), and having this life become my lifestyle.
I still remember the first time it clicked, the pairing of our Sauvignon Blanc and carrots with dill and butter sauce. The interplay of those ingredients along with the herbaceousness of the wine sang on my tongue, elevated a weeknight meal, and became a remarkable memory for me. From these humble beginnings, from childhood to that memorable night, I began to collect wine friendly recipes. Between my newsletters and website there is a great mix of old and new cuisine, many of them collected from magazines, cookbooks and lately digital media. My favorite go-to for many of them come from Janet Fletcher of Planet Cheese and Michele Anna Jordan, columnist and chef for the Press Democrat as well as family recipes and my own creations.
I share them with all of you in hopes you'll find that moment when wine and food sing, a pairing that might include Chardonnay with Wild Mushroom Soup or our Mother Clone Zinfandel with Parmesan Polenta and Sausage Ragu like it did with friends this last Saturday. A toast to those meals and the holidays-making spirits bright with some Vino in my Dino.
Dad, Mom, Ed and me in the Heritage Room, pre-holidays. Cheers!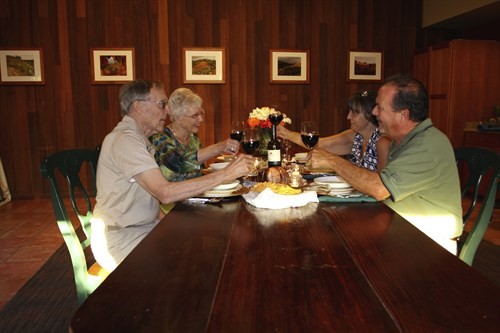 Photo credit: Dianna Murphy Photography
Categories
Recent posts
Popular tags