Vino In My Dino
June 22, 2021 11:30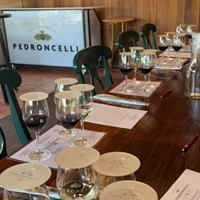 The question "what is wine country to you" came up in one of my COVID Coffee Chats a few weeks ago as we discussed the potential of people coming back to visit us and  what they expect when going wine tasting. California officially opened up on June 15-with a few qualifications. Sonoma County is cautioning us to open up carefully. We eagerly awaited this day, for 15 months, as the businesses open up including hotels, restaurants and, of course, tasting rooms. In Wine Country we are looking forward to welcoming more visitors as travel resumes.

Like you, when I travel to a destination I like to find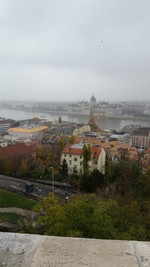 some exciting new things-whether it is natural wonders, local watering holes, a museum, a great wine bar, a new food or restaurant. I usually gather some information about the area. Is there a guide that comes highly recommended? We had a wonderful guide when we visited Buda Pest (photo on right) a few years ago-he brought the city to life and alternately we had a wonderful Jeep tour in Sedona. How about recommendations-do you look up Travel Advisor or Yelp? Do you ask Facebook friends or see what the latest wine and travel writers are saying about the area you are visiting?

Wine Country covers a lot of ground with 141 AVAs (American Viticultural Areas) to choose from and that's just here in California. There are maps, trade associations, tour guides, apps, both paper and people guides, among other tools to help you decide where you want to visit. Once you have targeted your favorite wine country destination it's time to move to the tasting experience.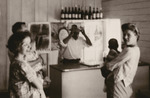 For years, going back to my grandfather's days, we offered tastes of our wine at the bar-stand up, list in hand, and when staff was busy you didn't get a lot of information. By the time the pandemic hit many of the tasting rooms around us had already started the move toward a slower pace and a curated experience. We have shifted the way we do wine tasting-and are still evolving. Initially during the lock down we used the time to enhance the Pedroncelli Tasting Experience. We developed a set of flights and provided seated tasting to help you take time learning about and tasting our selections.
How about your expectations of your visit here: do you want an adventure or dial it down to easy access and tasty wines? We've found that some folks want to visit with us, and some want to visit with each other. The seated experience allows for either in a comfortable setting. When you arrive are you looking to get dust on your feet and communing with the vines? Or is it comfy chairs and low key vibes? Or a more elegant space? It all comes down to this: providing our guests with the best possible encounter between you, our wines and our story.

I'd love to hear about your favorite experiences and those that left you wanting more. They always say if you need advice, ask the experts. In this case we are asking you—we think you know more about what you'd like to experience than we can ever know. Please send me your thoughts to julie@pedroncelli.com
Categories
Recent posts
Popular tags