Tasting Experiences
OUR TASTING ROOM IS OPEN DAILY 10-4:30. RESERVATIONS ENCOURAGED!

Last seating for tastings is 3:30pm.
We are open daily 10-4:30 for Tasting Experiences and Retail Sales. Reservations are encouraged and recommended. To arrange your experience, please call 707-857-3531 x1 or send us your request by email. Seated tasting flights are presented indoor and outdoor and are subject to availability and weather conditions. Curbside Pickup is available for Club pick ups, online or telephone orders. Or, shoot us an email. We'll make it happen!
**Masks are recommended while indoors (but not while sitting down and wine tasting) to maintain COVID safety measures. We maintain hand sanitizers at various stations for your convenience.
Leashed pets are allowed on our lower deck outside. Please make sure you let us know so there is a spot for you and your furry companion. If it is a hot day please consider leaving your pets at home.
EXPLORE OUR FLIGHTS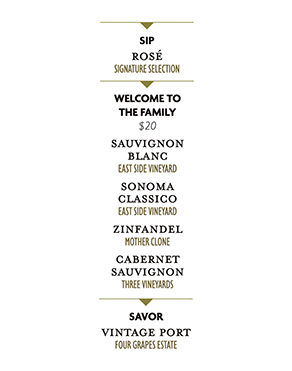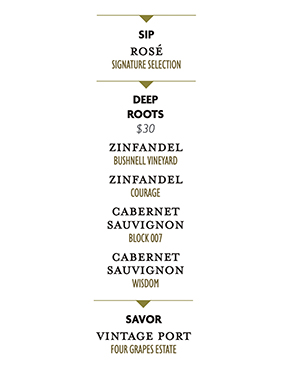 To allow our staff a time to be with family and friends, our Tasting Room is closed on the following holidays: New Year's Day, Easter Sunday, 4th of July, Thanksgiving Day, Christmas Eve and Christmas Day.
If you are in the trade (wholesaler, retail, restaurant or media) and would like to schedule a tasting and tour please email Julie Pedroncelli St. John at julie@pedroncelli.com and she will be happy to schedule it.
General Information:
Reservations are required and limited to groups of 6 or fewer. We have tasting flight options of $20 & $30 per person, or Club Ped members are complimentary (up to two per membership) 
Our story:
Four generations of the Pedroncelli family have called Geyserville, in the Dry Creek Valley of Sonoma County, home since 1927. Tending the land and making wine is much more than a business to us-it is our lifestyle.
Our Tasting Room, the first in the Dry Creek Valley, is the heart of our winery-this is where you get to taste the fruit of our labor and visit with our friendly staff. They know all the ins and outs at Pedroncelli-what is new, what is going on during harvest (our favorite time of year), history of the family (many times you will be served by a family member) and information about our special events.
There are many ways you can share in our way of life: sign up for our e-newsletter, filled with fun facts, latest news and recipes; join our wine club, Club Ped, where you receive regular wine shipments; enjoy a day at the winery for members only or attend other special events throughout the year; gather more information on your favorite wines and order them at our online store; visit us! drink in the view of our estate vineyards while sipping a current or library release, picnic or play Bocce-it's up to you.
Join us for a unique and fun experience--enjoy our beautiful corner of the wine country.