Vino In My Dino
December 16, 2014 12:25
Funny story about Sangiovese. Almost 15 years ago, I read an article predicting the next popular wines. At that time, Syrah was riding high, it was before the movie Sideways so Pinot Noir was still a sleeper, and Cabernet Sauvignon and Merlot were holding their positions as top selling wines. A wine writer wrote that two wines were up and comers and were about to sweep these other wines off the map: Sangiovese and Pinot Grigio. I became hopeful that our new addition of Alto Vineyards Sangiovese, first released in 1999, would do well.
Well I am here to tell you that while Pinot Grigio did well the wine buying public didn't receive the memo about Sangiovese. In fact many of the vineyards planted back then have made way for other, perhaps better known varietals. I think it doesn't quite have a hook like California's own Zinfandel or familiarity of Cabernet Sauvignon. It is the grape that made a region in Italy famous: Chianti. When I talk to sales representatives and retailers about carrying our California Chianti I urge them to become a Sangiovese champion because it is a unique wine in a sea of others. I believe our estate vineyards are producing some of the best California-style Chianti on the market. Planted to three areas on our home ranch the vineyard has thrived. This is one of my favorite wines to pour in our tasting room. Taste it for yourselves with a toast to heritage and choices in the vast world of wine.
One of our Alto vineyards on our home ranch, you see the terraces of Sangiovese atop our Mother Clone vineyard.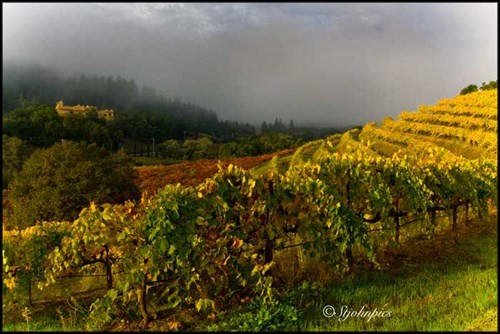 Categories
Recent posts
Popular tags