Vino In My Dino
November 22, 2021 15:07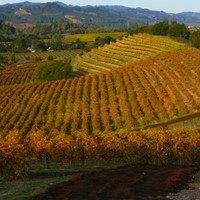 It will come as no surprise to you that fall is my favorite season. I revel in the changes all around me. The colors in our Mother Clone vineyard outside my office window are muted by the clouds, which are due to bring rain soon. It seems to be the right time to reflect on the year so far, with just six weeks until the New Year, and it's as good a time as any for wine.

This week National Zinfandel Day has come and gone, Nouveau Beaujolais had its' day and Cabernet Franc will soon be celebrated in December. Did you know there are 15 National Wine Days throughout the year and another 35 International Days set aside for everything from Chardonnay to Xinomavro? Sometimes I feel like the kid in the proverbial candy store. There are so many wines out there to try and we have 18 of our own currently released as of this note. A wine for every table and palate.

Thinking of all the ways wine is part of this time of year includes gifting for the holidays (I'd like Santa to add a bottle of wine to my stocking), featuring a favorite wine or two on the table, and don't forget the midweek meal choice amidst the busyness of wrapping up gifts or the year. This brings holiday menus to mind. The age old question of which wines goes with the bird or roast beast comes around again. Long ago when I worked in the Tasting Room, learning the ropes, I would tout our Rosé as the Thanksgiving wine: it goes with everything from the turkey to the cranberry sauce, maybe even pumpkin pie-give it a try.

And if you go ask Google you'll find wine and food pairing lists for the holidays nearly as long as the circumference of the earth. What do we do? I'll make it easy for you. Go with the wine you love best-why not have your favorite wine on the table? I would only make a few adjustments to the food. Watch the salt (not just because Ed and I are doing a lot of that lately) but because, like anything else, too much will throw the pairing out of balance. Other things like fat, usually a wine's best pairing friend, will ease the concerns whether a wine is right or not. Enter gravy, buttered rolls, roasted veggies.

This time of year I think less complication is better. Dig into your cellar/coat closet/wine rack and pull out a wine you've been saving for a special occasion. Bubbly always has a spot somewhere on the table at our house and of course dessert and Port go hand in hand (now pumpkin pie is a great pairing with Port!). No matter what, I believe we all will make the right choice. 

Reflecting on the past months I, for one, am glad harvest came through without a hitch, and although we are experiencing supply issues we are working on solutions. The virus continues as well as the ebb and flow of pandemic rules. In the middle of it all sometimes a pause in our daily routine to enjoy time with friends or family feels good, especially when there is a glass of something tasty to go along with the conversation.
Categories
Recent posts
Popular tags