Vino In My Dino
November 9, 2016 16:12
Yesterday I was asked to represent my home valley to a group of sommeliers here for Sonoma Summit, sponsored by our trade organization Sonoma County Vintners. I compiled my talk using points supplied by the Winegrowers of Dry Creek Valley. The subject was 'what makes Dry Creek Valley singular when it comes to Zinfandel' and I made it my own. Here are my thoughts.
It all began in the mid-1800s when those who settled here began planting vineyard and making wine. They shared budwood and the fruit of their labor with each other. Why Zin? It became a popular grape because it was easy to drink early on-simple as that. Not much aging necessary. And so the market for it grew.
By the 1880s it was a thriving business but winegrowing came in two waves-pre-and post-Prohibition. It was a long hiccup in our history here with wineries making 1.9 million gallons of wine in 1919, the year the 18th amendment was voted in. We are particularly thankful to all the head of households who bought grapes and made wine during that dry time, saving Zinfandel blocks from being torn out to make way for other crops. These are now known as old vine Zinfandel. In my family's case we bought mid-Prohibition with Zinfandel vineyard having been planted here since the early 1900s. We sold to home winemakers as well.
Let's take a step back and look at my home valley's statistics: 16 miles long, 2 miles wide, 7500 acres of grapes planted to 39 varietals. 2400 of them are Zinfandel-making Dry Creek Valley home to half of the Zinfandel planted in Sonoma County. Did you know that the largest concentration of old vine Zin is here as well? Now you do.
So what gives Zinfandel grown in Dry Creek Valley 'that certain something' or je ne se quoi? What makes this a premium region to grow Zinfandel? We have the perfect climate of hot days ripening the fruit and cool nights (natural air conditioning) letting the grapes develop complexity with a generous amount of hang time which factors in the development of flavor, acidity and sugar. Often times a challenge to grow, we have found out over the years it is the climate, soil and geography that gets the best out of Zin.
DCV has its distinct vineyard neighborhoods-the eastern bench home, the mineral rich valley floor western highlands with its red soils home and the northern heights where the cool Pacific breeze develops great wines. Combine the diversity of these neighborhoods, intensity of flavors gained through vineyard site, wisdom and winemaking, and you will find a grape that we feel can be the most expressive of their home and their own personalities. You'll find the characteristics shine in the wine-reflecting the vineyard's personality like no other grape. Case in point: Pedroncelli makes spice bombs not fruit bombs.
All of this combined with 150 years of growing Zin with 2400 acres is your ticket to the true personality of this great grape. I think it is time for a splash of Mother Clone Zinfandel in my Dino!
Our Mother Clone old vine block circa early 1900s-just a handful of these left and they keep producing delicious fruit.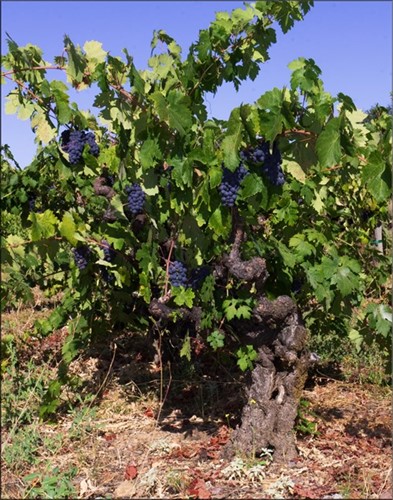 Categories
Recent posts
Popular tags