Vino In My Dino
February 3, 2016 17:52
I attended a two day event in Chicago this week. One was a consumer focused tasting held as a benefit for a local charity. I enjoyed talking to all the attendees but one particular taster had a question about what exactly 'terroir' is when you taste a wine. I even joked with the gentleman about the pronunciation-rhymes with Pinot Noir-which I happened to be pouring.
Last month I talked about the climate and micro climates and wrote about how important these were to the character of our wines. Terroir is one step beyond micro climates. You may be familiar with the word 'umami' which is a category of taste in the food world (besides sweet, salty, bitter and sour). Terroir is the umami of the wine world. We have soil, we have sun, we have fog and then this French term for character or the taste of place, a very specific place. It has the roots of the word earth (terra) so is tied to how soil and place affect the vines are firmly ensconced in the word.
I have read of people visiting vineyards where they will taste the soil or rocks. I haven't tasted any rocks or soil lately and I am not sure I'd be able to identify the 'terroir' of our land in a glass of our wine. Taken in the context of 'je ne sais quoi' I'd say there is a certain something which defines our wines and sometimes you can't put your finger on exactly the difference. I say "vive le terroir" and enjoy a splash of Zinfandel in my Dino!
Terroir in our Mother Clone vineyard-the steep hillside, gnarly vines and Dry Creek Valley rocks make a delicious Zinfandel.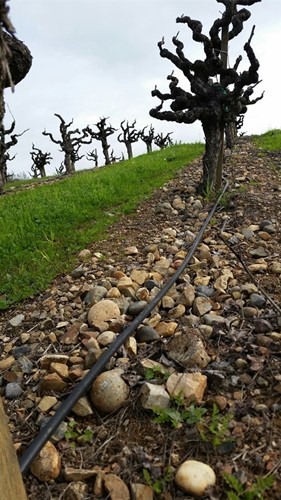 Categories
Recent posts
Popular tags