Vino In My Dino
July 26, 2019 17:06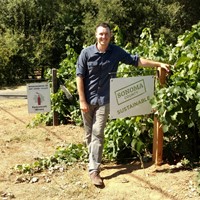 The subject of sustainability and how it sells wine is a fascinating one these days. We've been certified by a third party auditor. We've made changes over the years and plan on making more changes over the next decades to maintain our status. What sells us on the concept? More importantly what sells you, the reader, on the concept? Sold on Sustainability sheds light on the 'sale'ability of the very thing that keeps the grape and wine business going.
What sold the sustainability concept for me was the focus on the future. The emphasis is placed on what we can do better in order to leave the earth and environment in good condition for future generations. This includes the vineyard, winery and human resources. We are audited annually via a third party California Sustainable W A representative. Before they arrive Mitch Blakeley, fourth generation family member tasked with the project, submits paperwork that includes changes and upgrades to the previous year's work.
When we talk about sustainability in the market place whether it is to our tasting room visitors or a wine shop buyer it is about what we have achieved and how we will go forward to continue the process begun 90 years ago. We continue being good stewards of the land, to treat the wines and people with respect and with an eye on how it will impact the environment and the world in the years ahead. This is sustainability to us.
How does this sell the concept? If our friends know we are invested in the future in such a way that each year will bring mindful choices about our land, our wines and our way of life then we have all that we need to live the legacy of our founders and the next generations. We are indeed sold on sustainability.
Categories
Recent posts
Popular tags