Vino In My Dino
December 21, 2017 11:54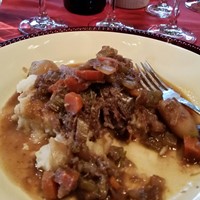 There is something hopeful about the Winter Solstice for me. Yes it is the shortest day of the year-5 hours and 14 minutes shorter than the June Solstice. Yet as we advance along the days and weeks we gain a few moments of sun each day as the earth turns and we head into a new year.
I put together a few of my favorite recipes for winter time cooking. Some are easy and quick while others require a day's attention. I do quite a bit of cooking and baking this time of year-the weather and our stomachs seem to yearn for home-made goods.
Chex mix by any other name and I grew up with this appetizer made by my aunt Marianne and I renamed it in her honor: Marianne's Mix
Think of this as the appetizer version of Tomato Soup with grilled cheese: Cheesy Tomato Dip
This soup comes with a recipe for Cinnamon Croutons for a warm winter spice feel: Butternut Squash Soup
Michele Anna Jordan combines two of my favorite vegetables and braises them-a great side dish too: Braised Fennel & Celery
This one will take some time but it is worth it with all the layers of flavor! Beef Brisket with Wild Mushrooms
Quick and easy, this is our go-to midweek chicken dish: Chicken Chili Verde
Translated as 'strong bread' the spicy flavors and nutty taste make this a unique dessert. Panforte
Chocolate, coffee, creamy-all great things in a dessert! Mocha Pot de Cremé
On final recipe is a favorite drink made with our Port and only three ingredients! Portspresso
Enjoy all these recipes as winter has us hunkering down and remember-in a few short months our horizons will be brighter!
Categories
Recent posts
Popular tags