Vino In My Dino
April 1, 2020 14:08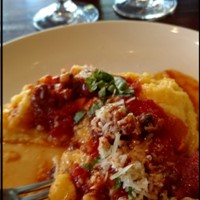 In a recent post I mentioned I was trying to come up with wine tips-outside of hand sanitizer-and cooking with it was one of them along with what I have learned about the chemistry of using wine in a sauce. I have gathered hundreds of recipes over the years and always strive for what I call 'pantry friendly' recipes-you know, the ones where you don't have to go to a specialty store to buy an ounce of caviar.
Let's begin with one of my favorite recipes because polenta is a comfort food I grew up with-think of it as Italian grits. Parmesan Polenta with Sausage Ragu
I found this recipe while searching for easy dinners and while it takes a little bit of time between cooking the sauce and the polenta, Sunday dinner anyone?, this brings simple ingredients together deliciously. Here are a few photos when I made this not long ago.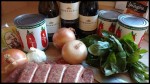 Here are a few tips: buy fresh basil-nothing like fresh to give a dish the best taste but in a pinch use dried basil-a teaspoon of dried to a tablespoon of fresh herbs. I buy the better grade canned tomatoes-but whatever you have on hand should work. Regarding the type of sausage, I like spicy but you can use the sweet Italian type and will still work, you can also replace pork sausage with turkey sausage very easily.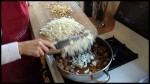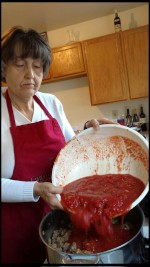 Your pantry, my pantry-there may be a difference in what you keep or have on hand. Sometimes Ed just shakes his head at my 'substitutions' and I admit they don't always create the same recipe. Don't be afraid to be creative-if you don't have leeks use onions. If you don't have ground turkey use ground beef. Cooking at home doesn't have to be difficult. Follow the instructions, measure out the ingredients, take your time-we have a lot of it these days. Planning ahead-there's another tip. Pre-COVID119 I would go to the store almost daily after work to get a quick weeknight dinner together. Secretly I love grocery shopping but let's keep that between us. Now I plan ahead to go to the store twice a week so I am following our shelter in place order.
Now, besides the tips I received about ways to use up wine, like turning leftover wine into ice cubes and later on using them in sauces or drinking the same wine you used in the recipe at dinner, I also received a question about the bank of recipes I have stored on our website-I have been adding to the different categories for many years. I am a recipe hound and have collected quite a few from many sources including family, staff, newspapers, local chefs, authors and recipe sites. Here are some of my favorites and I hope they become yours!
You know the can of chickpeas taking up a spot in the cupboard? Dress it up by roasting them-use as a snack or in a salad for lots of flavor: Spice Roasted Chickpeas
This soup is a staple in our household-spicy, tummy filling and healthy: Chicken Tortilla Soup
Alternately this soup uses up lots of veggies, the kitchen sink approach: Minestrone
Here is a simple, tasty and easy dinner idea: Chicken and Rice Pilaf
My mom Phyllis has been making a version of this for many years-both Mom and I find we do it a bit differently each time: Chicken Scallopini a la Phyllis
Here is a family favorite from our pre-empty nest days-I found this in Adrienne's cookbook for kids. Easy, flavorful and filling-the trifecta of the perfect family recipe-use beef and make it Sloppy Joes: Sloppy Toms
Each month I send out an enewsletter and part of it includes 2-3 recipes I find that are wine friendly. If you'd like to be on the email list let me know and send to julie@pedroncelli.com I'll sign off here like I do in the column: don't forget the vino!
Categories
Recent posts
Popular tags