Vino In My Dino
February 25, 2021 10:56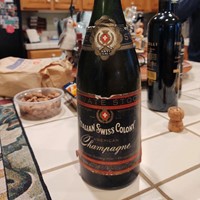 There are milestones in our lives that warrant opening a bottle of wine. Many are celebrations and others are mid-week dinners waiting to have them enhanced by a special bottle of wine. The wine could be a long-aged friend or a new addition-maybe one picked up on your last visit to wine country or recommended by your favorite retail store. This weekend my parents are celebrating their 62nd anniversary! We'll be enjoying the occasion over the weekend and opening a bottle or two. While we don't have a 1959 vintage of anything there will be some others that bring back memories.

They saved a bottle of sparkling wine from their wedding day and over the years it moved with them from house to house, refrigerator to refrigerator. I am fairly certain the wine is no longer drinkable but the bottle has always held the memory of their special day. 

Sometimes we wait too long and find a bottle that should have been enjoyed earlier from our stash. Much like my mom and dad's bottle of bubbly. In order to change that there is an annual celebration 'just because'. Open That Bottle Night (OBTN) is the last Saturday of February so this is a heads up in order to prepare. This tradition was started by Dorothy (Dottie) J. Gaiter and John Brecher who conceived and wrote The Wall Street Journal's wine column, "Tastings," from 1998 to 2010. Dorothy and John have been tasting and studying wine since 1973. Dottie has had a distinguished career in journalism as a reporter, editor, columnist and editorial writer at The Miami Herald, The New York Times, and at The Journal. John was Page One Editor of The Journal, City Editor of The Miami Herald and a senior editor at Bloomberg News. They are well-known from their books and many television appearances, and as the creators of the annual, international "OTBN" celebration of wine and friendship. The first bottle they shared was André Cold Duck.

According to Dottie, "John and I invented OTBN to provide an impetus for people to enjoy a wine they had been keeping for a special occasion that never arrived. Weddings, births, anniversaries, all manner of special milestones had come but those corks remained intact. We knew this happened because readers told us about bottles like that and we have many ourselves."

"While we urge people to open them as often as possible, and we try to do that because no one is promised tomorrow, there are still some bottles that we just haven't brought ourselves to open. Some are rather young, but special to us, still. The point is to open these gems with someone you care about and celebrate the memories that are in that bottle. Make them the occasion. Recognizing that sometimes it takes a village to do something difficult, we set a date, the last Saturday in February, for this global celebration of friendship, love and wine."

My Note from Home in May, What's Your Vintage Story, reminds us to consider the vintage on the bottle. As you take a look at the wines you have saved for a rainy (snowy or sunny) day, take a moment to recollect what happened in that particular year when you Open That Bottle Night next week. And like Dottie & John asked me, I would love to hear of your plans or what you thought of the wine you opened! When I sought permission to share the OTBN information and recent articles Dottie said, "Open That Bottle Night is always special but this year's, we hope, will be celebrated with deeper feelings of gratitude, love, and reflection." I have my eye on a 2009 Mother Clone Zinfandel-how about you?
Categories
Recent posts
Popular tags