Vino In My Dino
June 22, 2021 11:20
I picked up a t-shirt a few years ago and, because it had Hip Hip Rosé screened on it, was a natural choice. Since we have been making Rosé for 67 years I'll wear it as we celebrate National Rosé Day on the 12th and again on International Rosé Day on June 25th. Twice in one month-and I couldn't pass up the opportunity to share our 7 decade history of this wine.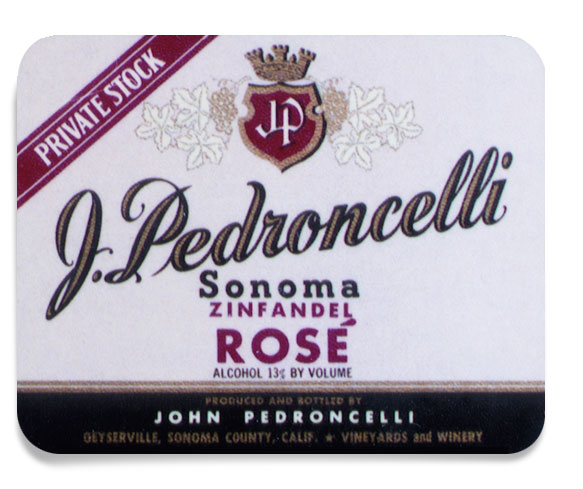 It goes back to the early 1950s actually when my uncle John was starting out as winemaker. We had made Zinfandel for many years as a red wine and blend. Working with his father he did what comes naturally. He decided making it out of Zinfandel was a natural extension of our estate fruit. At first it was known as Vin Rosé but soon became known as Zinfandel Rosé honoring the grape. My dad Jim remembers the first vintage of Zin Rosé because he worked the 1954 harvest before leaving to join the Army. They released it in 1955 and the rest is Rosé-story.
I remember running across some paperwork about production of our varieties in the early 1970s and saw that we made 10,000 cases! You do have to remember we were one of a handful of wineries during this time-the winery renaissance of the 1980s was just around the corner. The style of our Rosé was also sweeter-which matched well with what people wanted out of this type in those days.
At one point our rosé style diverged and we made both a Zinfandel Rosé and a White Zinfandel. Popularity of the lighter and sweeter styled rosé spanned the vintages of 1984 through 2000. All along we had a small but mighty base of fans for the OG Rosé. Taste changed and by 2005 the popularity of Rosé in general would soar and we were back in business. We haven't looked back.
If you talk to winemaker Montse she'll tell you it is the most challenging wine to make out of all of our wines-and we make 21 in total. The style has changed from John's time however. In those early vintages it was made in the saignee method-where the winemaker draws off the juice from fully ripened Zinfandel and separates it into its' own tank. The color was a deep salmon red, full bodied, full flavored and a bit higher alcohol than the current release. 
Montse now seeks to pick early, also known as an intentional rosé.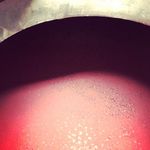 This means harvesting about two weeks ahead of when we would pick for red Zinfandel. By doing this the wine has lower alcohol, is lighter in color and brings crisp acidity for balance with the fruit. Once the grapes are brought in, the skins are separated to achieve a paler shade of rosé. The beauty of this photo  shows the fermenting pink stuff perfectly. Montse records each vintage this way.
It is a family favorite when we gather and is almost always the answer when I am wondering what to pair with dinner. Speaking of pairings, this wine is made for your glass, a meal or just an afternoon on the deck. My dad came up with the Zin Cooler years ago-adding a touch of orange-flavored mineral water. Later on we developed a few cocktail recipes including the
Negroncelli
.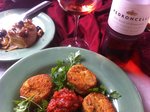 Rosé and food-the match made in heaven. There is a whole world of possibilities. Just off the top I can think of oysters, burgers, prosciutto wrapped melon, roasted chicken, Thanksgiving dinner (goes with everything except the pumpkin pie), Orzo Pasta Salad, Watermelon Salad or click here for these and more
recipes
! 
Categories
Recent posts
Popular tags