Vino In My Dino
April 23, 2018 16:46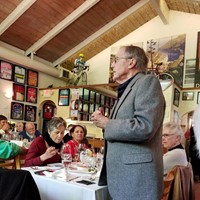 What do you get when you combine 74 lovers of Italian food, wine and heritage? A wonderful evening where Pedroncelli wines were poured, delicious food was served and great conversations flourished. My parents Jim and Phyllis joined me as we talked about our history in Sonoma County and our roots in Italy to this group at a dinner sponsored by the North Bay Italian Cultural Foundation (NBICF) held at Riviera Ristorante in Santa Rosa.
My family has deep Italian roots via my grandparents who arrived separately with their families from northern Italy in the early 1900s; my grandmother came with her mother and sister who met up with my great-grandfather in Redding, California. My grandfather traveled as a teenager with his sister when she was betrothed to marry a fellow Italian in Dunsmuir, California. Years later my grandfather Giovanni was selling vegetables to the hotel run by my great-grandparents and met my grandmother Julia on one of his stops. The rest was history and a few years later the young family, with three children-Margaret, Marianne and John, pulled up roots and moved to Geyserville where there was a home, a vineyard to tend and a shuttered winery waiting out Prohibition. I think part of the reason they moved to this area was because of the many other Italians who had made Dry Creek Valley home.
The connection with NBICF began when my aunt Marianne moved back to Sonoma County in the early 1980s after working for the State of California. She joined this Italian-focused group as a way to network and find new friends. She was very proud of her heritage as an Italian-American, accent on the Italian. She practiced her Italian in small groups, traveled and went to many events over those years. We have kept in touch with NBICF since she passed away. They even started a scholarship in her name for any student wanting to continue their Italian language education at Santa Rosa Junior College.
All in all we 'went Italian' along with everyone else at the dinner and enjoyed making new friends and visiting with old ones as well. Pedroncelli, after all, is Italian for La Dolce Vita. Saluti a tutti.
Categories
Recent posts
Popular tags